Question time
15th May 1997
Page 58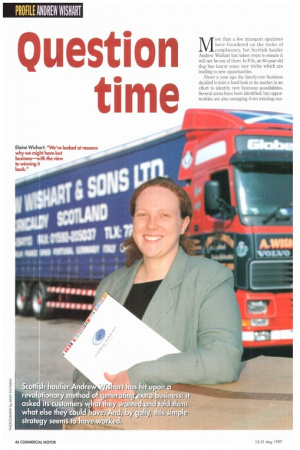 Page 59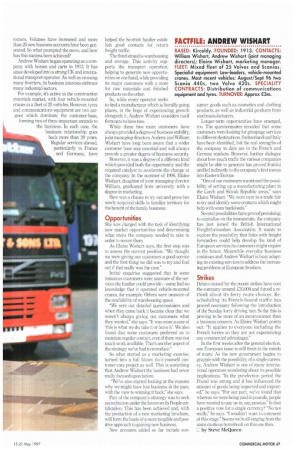 Page 58, 15th May 1997 —
Question time
Close
More than a few transport operators have foundered on the rocks of complacency, but Scottish haulier Andrew Wishart has taken steps to ensure it will not be one of them. In Fife, an 84-year-old dog has learnt some new tricks which are leading to new opportunities.
About a year ago the family-run business decided to take a hard look at its market in an effort to identify new business possibilities. Several areas have been identified, but opportunities are also emerging from existing cus tomers, Volumes have increased and more than 25 new business accounts have been generated. So what prompted the move, and how has this success been achieved?
Andrew Wishart began operating as a company with horses and carts in 1913. It has since developed into a strong 1.1C and international transport operator. As well as crossing many frontiers, its business interests embrace many industrial sectors.
For example, it's active in the construction materials market, with four vehicle-mounted cranes in a fleet of 25 vehicles. However, tyres and communications equipment are two cargoes which dominate the customer-base, forming two of three important strands to the business. In each case, the business relationship goes back more than 20 years. Regdar services abroad, particularly to France and Germany, have helped the Scottish haulier establish good contacts for return freight traffic.
The third strand is warehousing and storage. This activity supports the transport operation, helping to generate new opportunities on one hand, while providing its major customers with a store for raw materials and finished products on the other.
So, while every operator seeks to find a manufacturer which is literally going places, in the hope of experiencing growth alongside it, Andrew Wishart considers itself fortunate to have two.
While these two main customers have always provided a degree of business stability joint managing directors Andrew and William Wishart have long been aware that a wider customer base was essential and will always provide a greater degree of business security.
However, it was a degree of a different kind which provided both the opportunity and the required catalyst to accelerate the change at the company In the summer of 1996, Elaine Wishart, daughter of joint managing director William, graduated from university with a degree in marketing.
Here was a chance to try out and prove her newly acquired skills in familiar territory for the benefit of the family business.
Opportunities
She was charged with the task of identifying new market opportunities and determining what steps the company needed to take in order to secure them.
As Elaine Wishart says, the first step was to assess the current position: "We thought we were giving our customers a good service and the first thing we did was to try and find out if that really was the case."
Initial enquiries suggested that in some instances customers were unaware of the services the haulier could provide—some had no knowledge that it operated vehicle-mounted cranes, for example, Others were unaware of the availability of warehousing space.
"We sent out detailed questionnaires and when they came back it became clear that we weren't always giving our customers what they wanted," she says. "It was more a case of this is what we do, take it or leave it'. We also found that some customers preferred us to • maintain regular contact, even if there was not much work available. That's another aspect of the strategy we've had to introduce."
So what started as a marketing exercise, turned into a full blown do-it-yourself customer-care project as well. This is something that Andrew Wishart the business had never really focused upon before.
"We've also started looking at the reasons why we might have lost business in the past, with the view to winning it back," she says.
Part of the company's strategy was to seek accreditation under the Investors In People certification. This has been achieved and, with the production of a new marketing brochure, will form the basis of a more tangible and positive approach to gaining new business
New accounts added so far include con
sumer goods such as cosmetics and clothing products, as well as industrial products from steel manufacturers.
Longer-term opportunities have emerged, too. The questionnaires revealed that some customers were looking for groupage services to different destinations Switzerland and Italy have been identified, hut the real strengths of the company to date are in the French and German markets. However, further dialogue about how much traffic the various companies might be able to generate has proved fruitful and led indirectly to the company's first moves into Eastern Europe.
"One of our customers mentioned the possi bility of setting up a manufacturing plant in the Czech and Slovak Republic areas," says Elaine Wishart. "We went over to a trade fair to try and identify some contacts which might help with some backloads."
Several possibilities have proved promising; to capitalise on the momentum, the company has just joined the British International Freightforwarders Association. It wants to explore the possibility that links with freight forwarders could help develop the kind of European services its customers might require in the future. Meanwhile everyday business continues and Andrew Wishart is busy adapting its existing services to address the increasing problems at European frontiers.
Strikes
Delays caused by the recent strikes have cost the company around £30,000 and forced a rethink about its ferry route choices. Rescheduling its French-bound traffic has proved necessary following the introduction of the Sunday lorry driving ban. So far this is proving to he more of an inconvenience than a business concern. As Elaine Wishart points out: "It applies to everyone including the French lorries so they are not experiencing any commercial advantages."
In the first weeks after the general election, one European issue is still fresh in the minds of many As the new government begins to grapple with the possibility of a single currency Andrew Wishart is one of many international operators wondering about its possible implications. "In the pre-election period the Pound was strong and it has influenced the amount of goods being imported and exported," he says. "For our part, we've found that whereas we were being paid in pounds, people have wanted to pay us in, say, pesetas." Is that a positive vote for a single currency? "No not really" he says. "I wouldn't want to comment at this stage." Seems we're all singing from the same cautious hymnbook on this one then.
E by Steve McQueen