VW TRANSPORTER DOUBLE CAB
15th May 1997
Page 44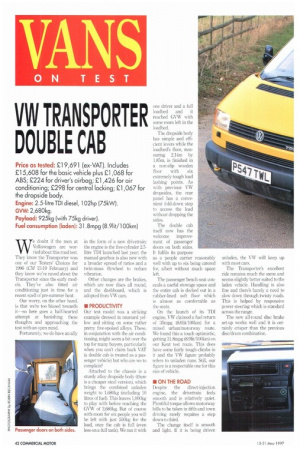 Page 45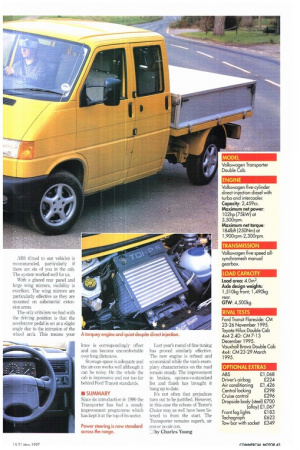 Page 44, 15th May 1997 —
VW TRANSPORTER DOUBLE CAB
Close
Price as tested: El 9,691 (ex-VAT), Includes £15,608 for the basic vehicle plus £1,068 for ABS; £224 for driver's airbag; £1,426 for air conditioning; £298 for central locking; £1,067 for the dropside body.
Engine: 2.5-litre TDI diesel, i 02hp (75kW), GVW: 2,680kg.
Payload: 925kg (with 75kg driver).
Fuel consumption (laden): 31.8mpg (8.914/100km) We doubt if the men at Volkswagen are worried about this road test. They know the Transporter was one of our Testers' Choices for 1996 (CM 13-19 February) and they know we've raved about the Transporter since the early models. They've also fitted air conditioning just in time for a recent spell of pre-summer heat.
Our worry, on the other hand, is that we're too biased towards it—so here goes a half-hearted attempt at banishing these thoughts and approaching the test with an open mind.
Fortunatelt we do have an ally in the form of a new drivetrain: the engine is the five-cylinder 2.5litre TDI launched last year; the manual gearbox is also new with a broader spread of ratios and a twin-mass flywheel to reduce vibration.
Other changes are the brakes, which are now discs all round, and the dashboard, which is adopted from VW cars.
• PRODUCTIVITY Our test model was a striking example dressed in mustard yellow and sitting on some rather pretty five-spoked alloys. These, in conjunction with the air conditioning, might seem a bit over the top for many buyers, particularly when you can't claim back VAT (a double cab is treated as a passenger vehicle) but who are we to complain?
Attached to the chassis is a sturdy alloy dropside body (there is a cheaper steel version), which brings the combined unladen weight to 1,680kg (including 10 litres of fuel). This leaves 1,000kg to play with before reaching the GVW of 2,680kg. But of course with room for six people you will be left with just 550kg for the load, once the cab is full (even less on a full tank). We ran it with :me driver and a full loadbed and it reached GVW with some mom left in the loadbed.
The dropside body has simple and efficient levers while the loadbed's floor, measuring 2.14m by 1.85m, is finished in a non-slip wooden floor with six extremely tough load lashing points. As with previous VW dropsides, the rear panel has a convenient fold-down step to access the load without dropping the sides.
The double cab itself now has the welcome improvement of passenger doors on both sides. It fulfils its purpose as a people carrier reasonably well with up to six being catered for, albeit without much space left.
The passenger bench seat conceals a useful stowage space and the entire cab is decked out in a rubber-lined soft floor which is almost as comfortable as the scats.
On the launch of its TDI engine, VW claimed a fuel return of 35mpg (8.01it/100km) for a mixed urban/motorway route. We found this a touch optimistic, getting 31.8mpg (8.91it/100km) on our Kent test route. This does have some fairly tough climbs in it and the VW figure probably refers to unladen runs. Still, our figure is a respectable one for this size of vehicle.
• ON THE ROAD Despite the direct-injection engine, the driveb-ain feels smooth and is relatively quiet. Plentiful torque allows motorway hills to be taken in fifth and town driving rarely requires a step down to third.
The change itself is smooth and light. If it is being driven unladen, the VW will keep up with most cars.
The Transporter's excellent ride remains much the same and seems slightly better suited to the laden vehicle. Handling is also fine and there's barely a need to slow clown through twisty roads. This is helped by responsive power steering which is standard across the range.
The new all-round disc brake set-up works well and it is certainly crisper than the previous disc/drum combination. AISS (fitted to our vehicle) is recommended, particularly if there are six of you in the cab. The system worked well for us.
With a glazed rear panel and large wing mirrors, visibility is excellent. The wing mirrors are particularly effective as they are mounted on substantial extension arms.
The only criticism we had with the driving position is that the accelerator pedal is set at a slight angle due to the intrusion of the wheel arch. This means your knee is correspondingly offset and can become uncomfortable over long distances.
Stowage space is adequate and the air-con works well although it can be noisy On the whole the cab is impressive and not too far behind Ford Transit standards.
II SUMMARY Since its introduction in 1990 the Transporter has had a steady improvement programme which has kept it at the top of its sector.
Power steering is now standard across the range. Last year's round of tine tuning has proved similarly effective. The new engine is refined and economical while the van's exemplary characteristics on the road remain steady. The improvement in brakes, options-vs-standard list and finish has brought it bang up to date.
It's not often that prejudices turn out to be justified. However, in this case the echoes of Tester's Choice may as well have been listened to from the start. The Transporter remains superb, air con or no air con.
by Charles Young