Quicker reaction times, better control and shorter 'stopping distances are
15th May 1997
Page 36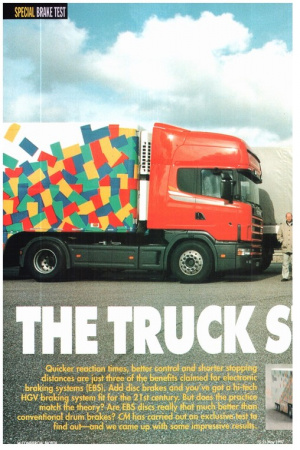 Page 38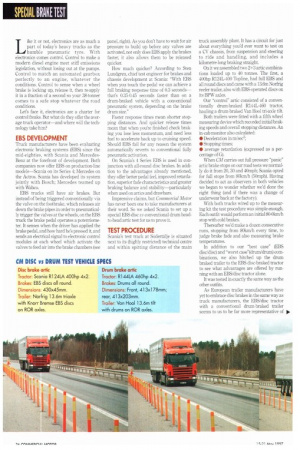 Page 36, 15th May 1997 —
Quicker reaction times, better control and shorter 'stopping distances are
Close
iust three of the benefits claimed for electronic braking systems (E135). Add disc brakes and you've gotahi-lech fIGV braking system fit for the 21st century. But does tbe_praciiie match the theory? Are.EB$ discs, really that fniuck b`etter't*. conventional driffn brakes? CM has carried out an exclusivei.teit to find out—andwe carne up with some impressive , , Like it or not, electronics are as much a part of today's heavy trucks as the humble pneumatic tyre. With electronics comes control. Control to make a modern diesel engine meet stiff emissions legislation, without losing out at the pumps. Control to match an automated gearbox perfectly to an engine, whatever the conditions. Control to sense when a wheel brake is locking up, release it, then re-apply it in a fraction of a second so your 38-tonner comes to a safe stop whatever the road conditions.
Let's face it, electronics are a charter for control freaks. But what do they offer the average truck operator—and where will the technology take him?
EBS DEVELOPMENT
Truck manufacturers have been evaluating electronic braking systems (EBS) since the mid-eighties, with Scania and MercedesBenz at the forefront of development. Both companies now offer EBS on production-line models—Scania on its Series 4; Mercedes on the Actros. Scania has developed its system jointly with Bosch; Mercedes teamed up with Wabco.
EBS trucks still have air brakes. But instead of being triggered conventionally via the valve on the footbrake, which releases air down the brake pipes in order to pneumatically trigger the valves at the wheels, on the EBS truck the brake pedal operates a potentiometer. It senses when the driver has applied the brake pedal, and how hard he's pressed it, and sends an electrical signal to electronic control modules at each wheel which activate the valves to feed air into the brake chambers (see