Unprofessional T have just returned from Imy first visit to
15th May 1997
Page 35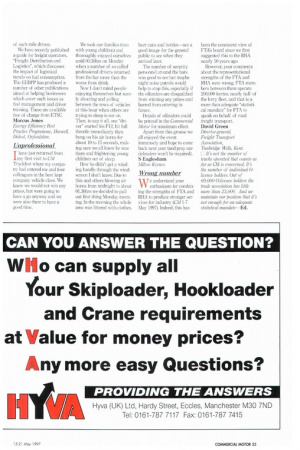 Page 35, 15th May 1997 —
Unprofessional T have just returned from Imy first visit to
Close
CM Truckfest where my company had entered me and four colleagues in the best kept company vehicle class, We knew we would not win any prizes, but were going to have a go anyway and we were also there to have a good time.
We took our families (two with young children) and thoroughly enjoyed ourselves until 00:30hrs on Monday when a number of so-called professional drivers returned from the bar more than the worse from drink.
Now I don't mind people enjoying themselves but surely shouting and yelling between the rows of vehicles at this hour when others are trying to sleep is not on. Then, to cap it all, one "dd. ver" started his P12, hit full throttle immediately then hung on his air horns for about 10 to 15 seconds, making sure we all knew he was there and frightening young children out of sleep. How he didn't get a winding handle through the windscreen I don't know. Due to this and others blowing air horns from midnight to about 01.30hrs we decided to pull out first thing Monday morning. In the morning the whole area was littered with clothes. beer cans and bottles—not a good image for the general public to see when they arrived later.
The number of security personnel around the bars was good to see but maybe night noise patrols would help to stop this, especially if the offenders are disqualified from winning any prizes and barred from entering in future.
Details of offenders could be printed in the Commercial Motor for maximum effect.
Apart from this grouse we all enjoyed the event immensely and hope to come back next year (and pray eardefenders won't be required). S Eaglesharn MiIttm Keynes.