Circles to clear the tyre treads
15th May 1997
Page 26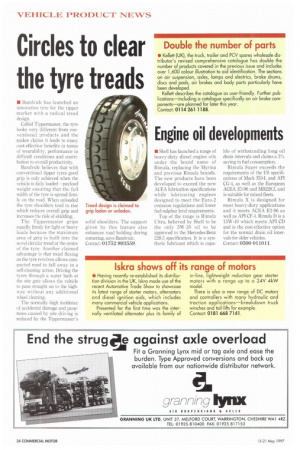 Page 26, 15th May 1997 —
Circles to clear the tyre treads
Close
• Bandvulc has launched an innovative tyre for the tipper market with a radical tread design.
Called Tippermaster, the tyre looks very different from conventional products and the maker claims it leads to many cost-effective benefits in terms of wearability, performance in difficult conditions and contribution to overall productivity.
Bandvulc believes that with conventional tipper tyres good grip is only achieved when the vehicle is fully loaded—payload weight ensuring that -the full width of the tyre is spread firmly on the road. When unloaded the tyre shoulders tend to rise which reduces overall grip and increases the risk of skidding.
The Tippermaster grips equally firmly for light or heavy loads because the maximum area of grip is built into the novel circular tread at the centre of the tyre. Another claimed advantage is that tread flexing as the tyre revolves allows compacted mud to fall away in a self-cleaning action. Driving the Tyres through a water bath at The site gate allows the vehicle to pass straight on to the highway without any additional wheel cleaning.
The normally high incidence of accidental damage and punctures caused by site driving is reduced by the Tippermaster's solid shoulders. The support given by this feature also enhances road holding during cornering, says Bandvulc. Contact: 01752 893559.