More vehicles after warning
15th May 1997
Page 22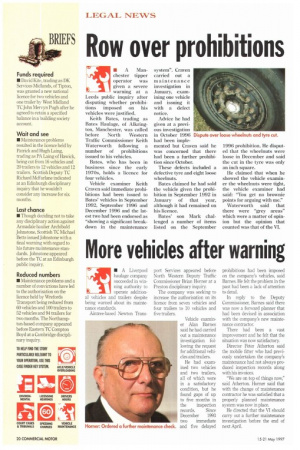 Page 22, 15th May 1997 —
More vehicles after warning
Close
IN A Liverpool haulage company succeeded in winning authority to operate additional vehicles and trailers despite being warned about its maintenance standards.
Aintree-based Newton Trans port Services appeared before North Western Deputy Traffic Commissioner Brian Horner at a Preston disciplinary inquiry.
The company was seeking to increase the authorisation on its licence from seven vehicles and four trailers to 10 vehicles and five trailers.
Vehicle examiner Alan Barnes said he had carried out a maintenance investigation following the request for additional vehicles and trailers.
He had examined two vehicles and two trailers, all of which were in a satisfactory condition, but he found gaps of up to five months in the inspection records. Since December 1993 two immediate and five delayed prohibitions had been imposed on the company's vehicles, said Barnes. He felt the problem in the past had been a lack of attention to detail.
In reply to the Deputy Commissioner, Barnes said there was now a forward planner that had been devised in association with the company's new maintenance contractor.
There had been a vast improvement and he felt that the situation was now satisfactory.
Director Peter Atherton said the mobile fitter who had previously undertaken the company's maintenance had not always produced inspection records along with his invoices.
"We are on top of things now," said Atherton. Horner said that with the change of maintenance contractor he was satisfied that a properly planned maintenance system was now in place.
He directed that the VI should carry out a further maintenance investigation before the end of next April.