BRIE" Row over prohibitions • A Manchester tipper operator was
15th May 1997
Page 22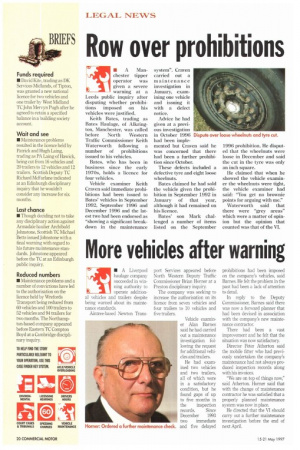 Page 22, 15th May 1997 —
BRIE" Row over prohibitions • A Manchester tipper operator was
Close
given a severe warning at a Leeds public inquiry after disputing whether prohibitions imposed on his vehicles were justified.
Keith Bates, trading as Bates Haulage, of Alluington, Manchester, was called before North Western Traffic Commissioner Keith Watervvorth following a number of prohibitions issued to his vehicles.
Bates, who has been in business since the early 1970s, holds a licence for four vehicles.
Vehicle examiner Keith Craven said immediate prohibitions had been issued to Bates' vehicles in September 1992, September 1996 and December 1996 and the latest two had been endorsed as "showing a significant breakdown in the maintenance system". Craven carried out a maintenance investigation in January. examining one vehicle and issuing it with a defect notice.
Advice he had given at a previous investigation in October 1996 had been implemented but Craven said he was concerned that there had been a further prohibition since October.
These defects included a defective tyre and eight loose wheelnuts.
Bates claimed he had sold the vehicle given the prohibition in September 1992 in January of that year, although it had remained on his licence.
Bates' son Mark challenged a number of items listed on the September 1996 prohibition. He disputed that the wheelnuts were loose in December and said the cut in the tyre was only an inch square.
He claimed that when he showed the vehicle examiner the wheelnuts were tight, the vehicle examiner had said: "You get no brownie points for arguing with me."
Waterworth said that there were "grey areas" which were a matter of opinion but the opinion that counted was that of the VI.