Sun keeps the cargo cooled
15th May 1997
Page 18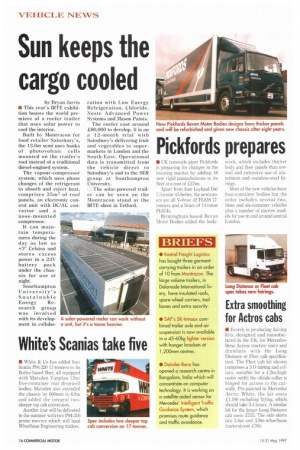 Page 18, 15th May 1997 —
Sun keeps the cargo cooled
Close
Keywords :
Energy
,
Engineering
,
Physics
,
Food Preservation
,
Energy Conversion
,
Chemical Engineering
,
Heating, Ventilating, And Air Conditioning
,
Refrigeration
,
Thermodynamics
,
Sainsbury's
,
Refrigerated Container
,
Solar Power
,
Technology / Internet
by Bryan Jarvis In This year's IRTE exhibition boasts the world premiere of a reefer trailer that uses solar power to cool the interior.
Built by Montracon for food retailer Sainsbury's, the 13.6m semi uses banks of photovoltaic cells mounted on the trailer's roof instead of a traditional diesel-engined system.
The vapour-compressor system, which uses phase changes of the refrigerant to absorb and reject heat, comprises 35m2 of roof panels, an electronic control unit with DC/AC convertor and a nose-mounted compressor.
It can maintain temperatures during the day as low as +3° Celsius and stores excess power in a 24V battery pack under the chassis for use at night.
Southampton University's Sustainable Energy Research group was involved with its development in collabo ration with Low Energy Refrigeration, Chloride, Neste Advanced Power Systems and Mason Paints.
The reefer cost around £80,000 to develop. It is on a 12-month trial with Sainsbury's delivering fruit and vegetables to supermarkets in London and the South-East. Operational data is transmitted from the vehicle direct to Sainsbury's and to the SER group at Southampton University.
17 The solar-powered trailer can be seen on the Montracon stand at the IRTE show in Telford.