FTA looks for links with RHA
15th May 1997
Page 16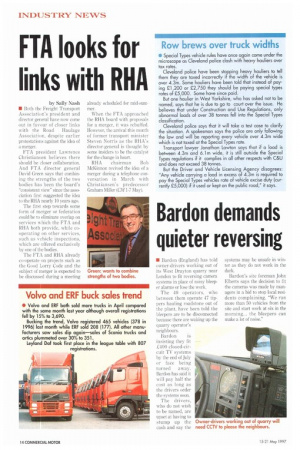 Page 16, 15th May 1997 —
FTA looks for links with RHA
Close
by Sally Nash • Both the Freight Transport Association's president and director general have now come out in favour of closer links with the Road Haulage Association, despite earlier protestations against the idea of a merger.
ETA president Lawrence Christiansen believes there should be closer collaboration. And FTA director general David Green says that combining the strengths of the two bodies has been the board's "consistent view" since the association first suggested the idea to the RHA nearly 10 years ago.
The first step towards some form of merger or federation could he to eliminate overlap on services which the FTA and RHA both provide, while cooperating on other services, such as vehicle inspectii.-. which are offered exclusi%
by one of the bodies.
The ETA and RHA already co-operate on projects such as the Good Lorry Code and the subject of merger is expected to be discussed during a meeting already scheduled for mid-summer.
When the FTA approached the RHA board with proposals for a merger, it was rebuffed. However, the arrival this month of former transport minister Steven Norris as the RfIA's director-general is thought by some insiders to be the catalyst for the change in heart.
RHA chairman Bob Mckinnon revived the idea of a merger during a telephone conversation in March with Christiansen's predecessor Graham Miller (CM 1-7 May).