AVRO looks at hours
15th May 1997
Page 14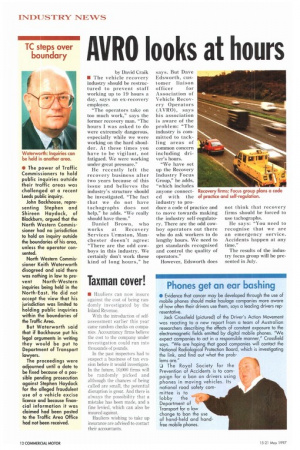 Page 14, 15th May 1997 —
AVRO looks at hours
Close
by David Craik • The vehicle recovery industry should be restructured to prevent staff working up to 19 hours a day, says an ex-recovery employee.
"The operators take on too much work," says the former recovery man. "The hours I was asked to do were extremely dangerous, especially while we were working on the hard shoulder. At these times you have to be vigilant, not fatigued. We were working under great pressure."
He recently left the recovery business after two years because of this issue and believes the industry's structure should be investigated. "The fact that we do not have tachographs does not help," he adds. "We really should have them."
Daniel Brown, who works at Recovery Services Urmston, Manchester doesn't agree: "There are the odd cowboys in this industry. We certainly don't work these kind of long hours," he says. But Dave Edsworth, customer liaison officer for Association of Vehicle Recovery Operators (AVRO), says his association is aware of the problem: "The industry is committed to tackling areas of common concern including driver's hours.
"We have set up the Recovery Industry Focus Group," he adds, "which includes anyone connected with the industry to produce a code of practice and to move towards making the industry self-regulatory. There are the odd cowboy operators out there who do ask workers to do lengthy hours. We need to get standards recognised and control the quality of operators."
However, Edsworth does not think that recovery firms should be forced to use tachographs.
He says: "You need to recognise that we are an emergency service. Accidents happen at any time."
The results of the industry focus group will be presented in July.