W. AND G. 11 AND 2 TON LORRIES.
15th May 1919
Page 9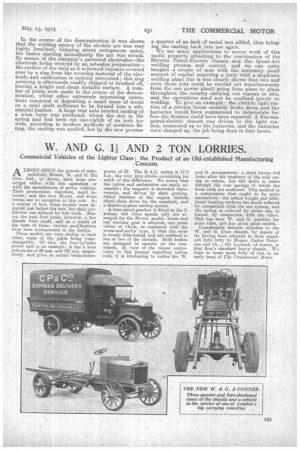 Page 9, 15th May 1919 —
W. AND G. 11 AND 2 TON LORRIES.
Close
Commercial Vehicles of the Lighter Class ; the Product of an Old-established Manufacturing Concern.
ALMOST SINCE the genesis of automobilisna; 'Messrs. W. and G. Du Oros; Ltd., of Acton, have been concerted either. with the operation or with the manufacture of motor vehicles. Their productions, therefore, merit interest; and the new 30-cwt. and 2-ton lorries are no exception to this rule. As a matter of fact, these models were designed just before the war, but their production was delayed by war work. Daring the past four years, however, a few chassis were made, and as a result of the tests of these, various modifications have been incorporated in the design. These models are very. similar to each other, some of the parts being interchangeable. Of this, the four-cylinder power unit is an example: it has a bore and stroke of 85 mm. and 130 mm. respectively, and gives an actual brake-horse
power of 27. The R.A.C. rating is 17.2 h.p., the very long stroke accounting for much of the difference. We notice that the valves and carburetter are easily accessible; the magneto is mounted trausxersely, and driven by skew gearing. Other features of the engine Include, silent-chain drive for the camshaft, and a thermo-syphon cooling system. A four-speed gearbox is fitted to the 2tanner, but three speeds only are arranged for the 30-cwt. model: worm and nut steering gear is adopted, one great virtue of which, as compared with the worm-and-sector type, is that the wear is evenly distributed, and net confined to one or two of the threads. Both brakes are arranged to operate on the rear wheels. In view of the recent controversy in this journal regarding radius rods, it is interesting to notice the W. and G. arrangement: a stout torque rod looks after the tendency of the axle casing to rotate, but the drive is. taken through the rear springs of which the front ends are anchored. This method is a compromise that ought to be quite satisfactory: the added weight and additional bearing surfaces are much reduced by comparison with the one system, and the spring is relieved by stress due to torque, by comparison with the other. This has been W. and G. practice for some time, and has given good results.
Considerable interest attaches to the W. and G. 2-ton chassis, by reason of its having been adopted as their standard light lorry by Messrs. Carter Paterson and Co., ; the Leyland, of course, is that firm's standard heavy chassis. We hope to treat snore fully of this in an early issue of The Commercial Motor.