,A big (irDYWORI
15th January 1971
Page 58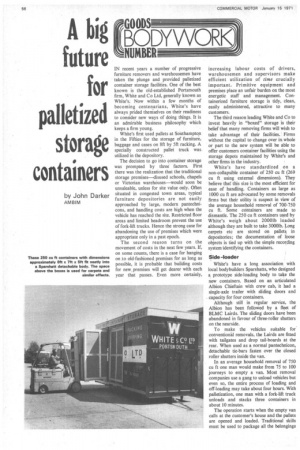 Page 59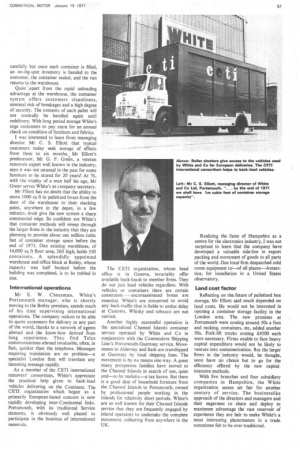 Page 58, 15th January 1971 —
,A big (irDYWORI
Close
Keywords :
Transport
,
Technology
,
Business
,
Warehouses
,
Logistics
,
Supply Chain Management
,
Packaging
,
Shipping Containers
,
Pallet
,
Containerization
,
Pantechnicon Van
,
Moving Company
future NUMBER future NUMBER
IN recent years a number of progressive furniture removers and warehousemen have taken the plunge and provided palletized container storage facilities. One of the best known is the old-established Portsmouth firm, White and Co Ltd, generally known as White's. Now within a few months of becoming centenarians, White's have always prided themselves on their readiness to consider new ways of doing things. It is an admirable business philosophy which keeps a firm young.
White's first used pallets at Southampton in the Fifties for the storage of furniture, baggage and cases on 8ft by 5ft racking. A specially constructed pallet truck was utilized in the depository.
The decision to go into container storage was prompted by three factors. First there was the realization that the traditional storage premises—disused schools, chapels or Victorian warehouses—would soon be unsaleable, unless for site value only. Often situated in congested town areas, typical furniture depositories are not easily approached by large, modern pantechnicons, and handling costs are high when the vehicle has reached the site. Restricted floor areas and limited headroom prevent the use of fork-lift trucksHence the strong case for abandoning the use of premises which were appropriate only in a past epoch.
The second reason turns on the movement of costs in the next few years. If, on some counts, there is a case for hanging on to old-fashioned premises for as long as possible, it is probable that building costs for new premises will get dearer with each year that passes. Even more certainly,
increasing labour costs of drivers, warehousemen and supervisors make efficient utilization of time crucially important. Primitive equipment and premises place an unfair burden on the most energetic staff and management. Containerized furniture storage is tidy, clean, easily administered, attractive to many customers.
The third reason leading White and Co to invest heavily in "boxed" storage is their belief that many removing firms will wish to take advantage of their facilities. Firms without the capital to change over in whole or part to the new system will be able to offer customers container facilities using the storage depots maintained by White's and other firms in the industry.
White's have standardized on a non-collapsible container of 250 cu ft (269 cu ft using external dimensions). They believe that this size is the most efficient for ease of handling. Containers as large as 1000 cu ft are advocated by some removals firms but their utility is suspect in view of the average household removal of 700-750 cu ft. Some containers are made to dismantle. The 250 cu ft containers used by White's weigh about 20001b loaded although they are built to take 30001b. Long carpets etc are stored on pallets in depositories; the documentation of loose objects is tied up with the simple recording system identifying the containers.
Side-loader
White's have a long association with local bodybuilders Sparshatts, who designed a prototype side-loading body to take the new containers. Based on an articulated Albion Chieftain with crew cab, it had a single-axle trailer with sliding doors and capacity for four containers.
Although still in regular service, the Albion has been followed by a fleet of BLMC Lairds. The sliding doors have been abandoned in favour of three-roller shutters on the nearside.
To make the vehicles suitable for conventional removals, the Lairds are fitted with tailgates and drop tail-boards at the rear. When used as a normal pantechnicon, detachable tie-bars fasten over the closed roller shutters inside the van.
In an average household removal of 750 cu ft one man would make from 75 to 100 journeys to empty a van. Most removal companies use a gang to unload vehicles but even so, the entire process of loading and off-loading may take about four hours. With palletization, one man with a fork-lift truck unloads and stacks three containers in about 10 minutes.
The operation starts when the empty van calls at the customer's house and the pallets are opened and loaded. Traditional skills must be used to package all the belongings careftilly but once each container is filled, an on-the-spot inventory is handed to the customer, the container sealed, and the van returns to the warehouse.
Quite apart from the rapid unloading advantage at the warehouse, the container system offers customers cleanliness, minimal risk of breakages and a high degree of security. The contents of each pallet will not normally be handled again until redelivery. With long period storage White's urge customers to pay extra for an annual check on condition of furniture and fabrics.
I was interested to learn from managing director Mr C. S. Elliott, that typical customers today seek storage of effects from three to six months. Mr Elliott's predecessor, Mr G. F. Green, a veteran removals expert well known in the industry, says it was not unusual in the past for some furniture to be stored for 20 years! At 76, with the vitality of a man half his age, Mr Green serves White's as company secretary.
Mr Elliott has no doubt that the ability to move 1000 cu ft in palletized boxes from the door of the warehouse to their stacking point, anywhere in the depot, in a few minutes, must give the new system a sharp commercial edge. So confident are White's that container methods will sweep through the larger firms in the industry that they are planning to provide about one million cubic feet of container storage space before the end of 1971. One existing warehbuse, of 14,000 sq ft floor area, 26ft high, holds 550 containers. A splendidly appointed warehouse and office block at Botley, whose capacity was half booked before the building was completed, is to be trebled in size.