Presenting • the bod beautiful
15th January 1971
Page 50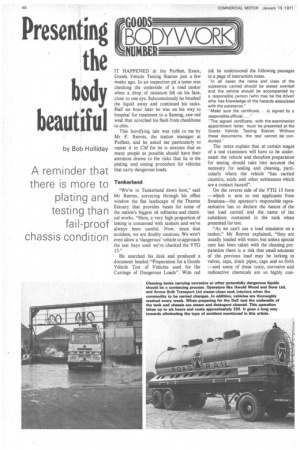 Page 51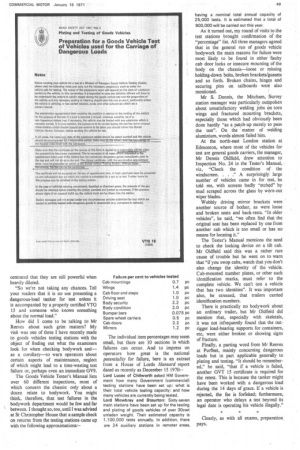 Page 50, 15th January 1971 —
Presenting • the bod beautiful
Close
IT HAPPENED at the Purfleet, Essex, Goods Vehicle Testing Station just a few weeks ago. In an inspection pit a tester was checking the underside of a road tanker when a drop; of moisture fell on his face, close to one eye. Subconsciously he brushed .the liquid away and continued his tasks. Half an hour later he was on his way to hospital for treatment to a flaming, raw-red weal that scorched his flesh from cheekbone to chin.
This horrifying tale was told to me by Mr F. Reeves, the station manager at Puifleet, and he asked me particularly to repeat it in CM for he is anxious that as many people as possible should have their attention drawn to the risks that lie in the plating and testing procedure for vehicles that carry dangerous loads.
Tankerland "We're in Tankerland down here," said Mr Reeves, surveying through his office window the flat landscape of the Thames Estuary that provides bases for some of the nation's biggest oil refineries and chemical works. "Here, a very high proportion of testing is concerned with tankers and we've always been careful. Now, since that accident, we are doubly cautious. We won't even allow a 'dangerous' vehicle to approach the test bays until we've checked the VTG 15."
He searched his desk and produced a document headed "Preparation for a Goods Vehicle Test of Vehicles used for the Carriage of Dangerous Loads". With red ink he underscored the following passages in a page of instruction notes.
In all cases the name and class of the substance carried should be stated overleaf and the vehicle should be accompanied bye responsible person (who may be the driver) who has knowledge of the hazards associated with the substance."
"Make sure the certificate. . .is signed by a • responsible official.. . ."
''The signed certificate, with the examination appointment letter, must be presented at the Goods Vehicle Testing Station. Without these documents, the test cannot be conducted."
The notes explain that at certain stages of a test examiners will have to be underneath the vehicle and therefore preparation for testing should take into account the necessity for sealing and cleaning, particularly where the vehicle "has carried caustics, acids and other substances which are a contact hazard".
On the reverse side of the VTG 15 form —which is sent to test applicants from Swansea—the operator's responsible representative has to declare the nature of the last load carried and the name of the substance contained in the tank when presented for test.
"As we can't use a load simulator on a tanker," Mr Reeves explained, "they are usually loaded with water, but unless special care has been taken with the cleaning preparation there is a risk that small amounts of the previous load may be lurking in valves, taps, drain pipes, caps and so forth —and some of these toxic, corrosive and radioactive chemicals are so highly con centrated that they are still powerful when heavily diluted.
"So we're not taking any chances. Tell your readers that it is no use presenting a dangerous-load tanker for test unless it is accompanied by a properly certified VTG 15 and someone who knows something about the normal load."
How did I come to be talking to Mr Reeves about such grim matters? My visit was one of three I have recently made to goods vehicles testing stations with the object of finding out what the examiners look for when checking bodywork and— as a corollary—to warn operators about certain aspects of maintenance, neglect of which might lead to a time-wasting test failure or, perhaps even an immediate GV9.
The Goods Vehicle Tester's Manual lists over 60 different inspections, most of which concern the chassis: only about a dozen relate to bodywork. You might think, therefore, that test failures in the bodywork department would be few and far between. I thought so, too, until I was advised at St Christopher House that a sample check on returns from the testing stations came up with the following approximations:–
Failure per cent to vehicles tested Cab mountings 0.7 pc Wings 1.4 pc Cab floor and steps 1.0 pc Driving seat 1.0 pc Body security 2.2 pc Body condition 2.0 pc Bumper bars 0.075 pc Spare wheel carriers 0.5 pc Cab doors 2.2 pc Mirrors 1.2 pc
The individual item percentages may seem small, but there are 10 sections in which failures can occur. And to impress on operators how great is the national potentiality for failure, here is an extract from a House of Lords Hansard report dated as recently as December 15 1970:– Lord Lucas of Chilworth asked HM Government how many Government (commercial) testing stations have been set up: what is their total vehicle testing capacity: and how many vehicles are currently being tested.
Lord Mowbray and Stourton: Sixty-seven main stations have been set up for the testing and plating of goods vehicles of over 30cwt unladen weight. Their estimated capacity is 1,100,000 tests annually. In addition, there are 24 auxiliary stations in remoter areas,
As it turned out, my round of visits to the test stations brought confirmation of the "percentage" list. All three managers agreed that in the general run of goods vehicle bodywork the main reasons for failure were most likely to be found in either :faulty cab door locks or insecure mounting -of the body on the chassis—loose or missing holding-down bolts, broken brackets/gussets and so forth. Broken chains, hinges and securing pins on tailboards were also mentioned.
Mr S. Dennis, the Mitcham, ,Surrey station manager was particularly oucspoken about unsatisfactory welding jobs on torn wings and fractured mounting brackets, especially those which had obviously been done hastily "as a patch-up merely to pass the test". On the matter of welding aluminium, words almost failed him.
At the north-east London station at Edmonton, where most of the vehicles for test are general goods carriers, the manager, Mr Dennis Oldfield, drew attention to Inspection No. 24 in the Tester's Manual,' viz, "Check the condition of the windscreen. . . ." A surprisingly large number of vehicles came in for test, he told me, with screens badly "etched" by mud scraped across the glass by worn-out wiper blades.
Wobbly driving mirror brackets were another source of bother, as were loose and broken seats and back-rests. "In older vehicles", he said, "we often find that the original seat has been replaced by one from another cab which is too small or has no means for locating it."
The Tester's Manual mentions the need to check the locking device on a tilt cab. Mr Oldfield said this was a rather rare cause of trouble but he went on to warn that "if you swop cabs, watch that you don't also change the identity of the vehicle. Cab-mounted number plates, or other such identification marks, must refer to the complete vehicle. We can't test a vehicle that has two identities". It was important also, he stressed, that trailers carried identification numbers.
There is practically no bodywork about an ordinary trailer, but Mr Oldfield did mention that, especially with skeletals, it was not infrequently found that the outrigger load-bearing supports for containers, etc, were either broken or showing signs of fracture.
Finally, a parting word from Mr Reeves at Put-fleet, mainly concerning dangerous
loads but in part applicable generally to plating and testing. "It should be remembered," he said, "that if a vehicle is failed, another GVT 15 certificate is required for the retest. This is because the tanker might have been worked with a dangerous load during the 14 days of grace. If a vehicle is rejected, the fee is forfeited; furthermore, an operator who delays a test beyond its legal date is operating his vehicle illegally."