Waste ground base—
15th January 1971
Page 40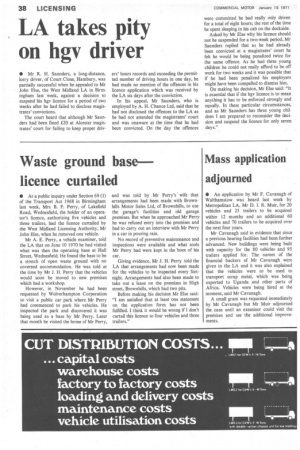 Page 40, 15th January 1971 —
Waste ground base—
Close
licence curtailed
• At a public inquiry under Section 69 (1) of the Transport Act 1968 in Birmingham last week, Mrs B. P. Perry, of Lakefield Road, Wednesfield, the holder of an operator's licence, authorizing five vehicles and three trailers, had the licence curtailed by the West Midland Licensing Authority, Mr John Else, when he removed one vehicle.
Mr A. E. Perry, a vehicle examiner, told the LA that on June 10 1970 he had visited what was then the operating base at Hall Street, Wednesfield. He found the base to be a stretch of open waste ground with no covereed accommodation. He was told at the time by Mr J. H. Perry that the vehicles would soon be moved to new premises which had a workshop.
However, in November he had been requested by Wolverhampton Corporation to visit a public car park where Mr Perry had commenced to park his vehicles. He inspected the park and discovered it was being used as a base by Mr Perry. Later that month he visited the home of Mr Perry, and was told by Mr Perry's wife that arrangements had been made with Brownhills Motor Sales Ltd, of Brownhills, to use the garage's facilities and old garage premises. But when he approached Mr Perry he was refused entry into the premises and had to carry out an intervidw with Mr Perry in a car in pouring rain.
No record of preventive maintenance and inspections were available and what tools Mr Perry had were kept in the 'boot of his car.
Giving evidence, Mr J. H. Perry told the LA that arrangements had now been made for the vehicles to be inspected every fortnight. Arrangements had also been made to take out a lease on the premises in High street, Brownhills, which had two pits.
Before making his decision Mr Else said: "I am satisfied that at least one statement on the application form has not been fulfilled. I think it would be wrong if I don't curtail this licence to four vehicles and three trailers."