LA takes pity on hgv driver
15th January 1971
Page 40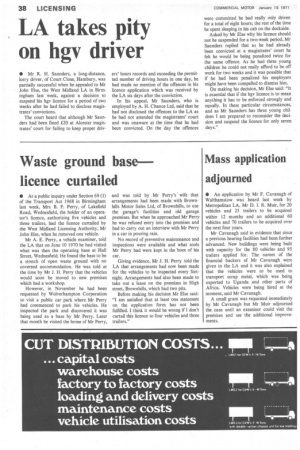 Page 40, 15th January 1971 —
LA takes pity on hgv driver
Close
• Mr R. H. Saunders, a long-distance, lorry driver, of Court Close, Hambury, was partially successful when he appealed to Mr John Else, the West Midland LA in Birmingham last week, against a decision to suspend his hgv licence for a period of two weeks after he had failed to disclose magistrates' convictions.
The court heard that although Mr Saunders had been fined £20 at Alcester magistrates' court for failing to keep proper driv
ers' hours records and exceeding the permitted number of driving hours in one day, he had made no mention of the offences in his licence application which was received by the LA six days after the conviction.
In his appeal, Mr Saunders, who is employed by A. H. Chance Ltd, said that he had not disclosed the offences to the LA as he had not attended the magistrates' court and was unaware at the time that he had been convicted. On the day the offences were committed he had really only driven for a total of eight hours; the rest of the time he spent sleeping in his cab on the dockside.
Asked by Mr Else why his licence should not be suspended for a two-week period, Mr Saunders replied that as he had already been convicted at a magistrates' court he felt he would be being penalized twice for the same offence. As he had three young children he could not really afford to be off work for two weeks and it was possible that if he had been penalized his employers might have been compelled to dismiss him.
On making his decision, Mr Else said: "It is essential that if the hgv licence is to mean anything it has to be enforced strongly and equally. In these particular circumstances, and as Mr Saunders has three young children I am prepared to reconsider the decision and suspend the licence for only seven days."