Registered manager for every 0 licence is Guild' s aim
15th January 1971
Page 27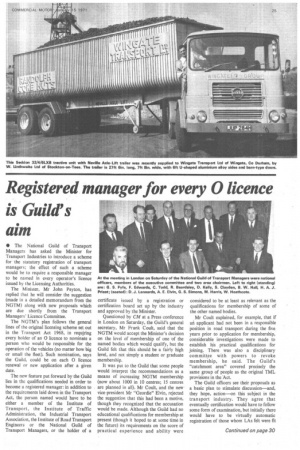 Page 27, 15th January 1971 —
Registered manager for every 0 licence is Guild' s aim
Close
• The National Guild of Transport Managers has asked the Minister for Transport Industries to introduce a scheme for the statutory registration of transport managers; the effect of such a scheme would be to require a responsible manager to be named in every operator's licence issued by the Licensing Authorities.
The Minister, Mr John Peyton, has replied that he will consider the suggestion (made in a detailed memorandum from the NGTM) along with new proposals which are due shortly from the Transport Managers' Licence Committee.
The NGTM's plan follows the general lines of the original licensing scheme set out in the Transport Act 1968, in requiring every holder of an 0 licence to nominate a person who would be responsible for the operation of the vehicles (no matter how big or small the fleet). Such nomination, says the Guild, could be on each 0 licence renewal or new application after a given date.
The new feature put forward by the Guild lies in the qualifications needed in order to become a registered manager: in addition to the requirements laid down in the Transport Act, the person named would have to be either a member of the Institute of Transport, the Institute of Traffic Administration, the Industrial Transport Association, the Institute of Road Transport Engineers or the National Guild of Transport Managers, or the holder of a certificate issued by a registration or certification board set up by the industry and approved by the Minister.
Questioned by CM at a Press conference in London on Saturday, the Guild's general secretary, Mr Frank Coult, said that the NGTM would accept the Minister's decision on the level of membership of one of the named bodies which would qualify, but the Guild felt that this should be a fairly high level, and not simply a student or graduate membership.
It was put to the Guild that some people would interpret the recommendations as a means of increasing NGTM membership (now about 1000 in 10 centres; 15 centres are planned in all). Mr Coult, and the new vice-president Mr "Geordie" Elvin, rejected the suggestion that this had been a motive, though they recognized that the accusation would be made. Although the Guild had no educational qualifications for membership at present (though it hoped to at some time in the future) its requirements on the score of practical experience and ability were considered to be at least as relevant as the qualifications for membership of some of the other named bodies.
Mr Coult explained, for example, that if an applicant had not been in a responsible position in road transport during the five years prior to application for membership, considerable investigations were made to establish his practical qualifications for joining. There was also a disciplinary committee with powers to revoke membership, he said. The Guild's "catchment area" covered precisely the same group of people as the original TML provisions in the Act.
The Guild officers see their proposals as a basic plan to stimulate discussion—and, they hope, action—on this subject in the transport industry. They agree that eventually certification would have to follow some form of examination, but initially there would have to be virtually automatic registration of those whom LAs felt were fit