ONE HEARS
15th January 1929
Page 3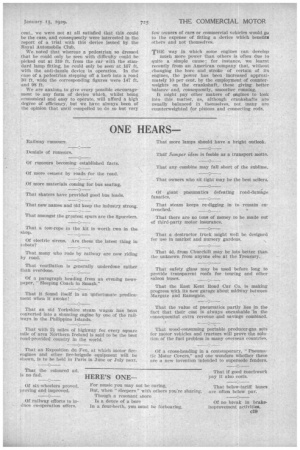 Page 3, 15th January 1929 —
ONE HEARS
Close
Railway rumours.
Denials of rumours.
Of rumours becoming established facts. Of more cement by roads for the road. Of more materials coming for bus seating.
That skaters have provided good bus loads. That new names and old keep the industry strong. That amongst the gra test spurs are the Spurriers. That a tow-rope in the kit is worth two in the shop.
Of electric sirens. Are these the latest thing in obots ? .
That many Who rode by railway are now riding by road.
That ventilation is generally underdone rather than overdone.
Of a paragraph heading from an evening newspaper, "Sleeping Coach in Smash."
That it found itself in an unfortunate predicament when it awoke!
That an old Yorkshire steam. wagon has been converted into a shunting engine by one of the railWays in the Philippine Islands.
That with 21 miles of highway for every square mile of area Northern Ireland is said to be the best road-provided country in the world.
That an Exposition du Feu, at which motor fireengines and other fire-brigade equipment will be shown, is to be held in Paris in June or July next.
. .
That the coloured ad. is no fad.
Of six-wheelers •proved, proving and improved. . Of. railway efforts to induce co-operation offers. That more lamps should have a bright oiltIook.
That &raper id-ern, is feeble as a transport motto.
That any combine may fall short of the sublime. That owners who sit tight'may be the best sellers.
Of giant pneumatics defeating road-damhe
fanatics. • 0
That steam keeps re-digging in to remain entrenched.
That there are no tons of money to be made out of third-party motor insurance.
That a destructor truck might well be designed for use in market and nursery gardens.
That 40. from Churchill may be lots better than the unknown from anyone else at the Treasury.
That safety glass may be used 'before long to provide transparent roofs for touring and other saloon buses.
That the East Kent Road Car Co. is making progress with its new garage about midway between Margate and Ramsgate.
That the value of pneumatics partly lies in the fact that their cost is always encashable in the consequential extra revenue and savings combined.
That wood-consuming portable producer-gas sets for motor vehicles and tractors will prove the solution of the fuel problem in many overseas countries.
Of a cross-heading in acontemporary, "Pneumatic Motor Covers," and one wonders whether these are a new invention intended to supersede fenders.
That if good Coachwork pay it also costs.
That -below-tariff buses are often below par.
• Of no break in brakeimprovement activities. c1.9