SWEET TASTE OF FUDGE
15th February 1996
Page 7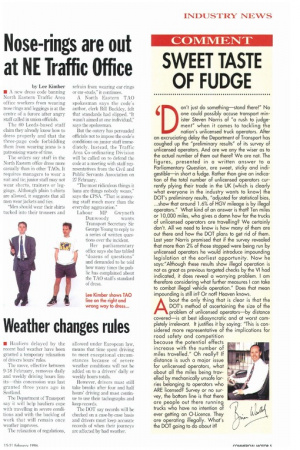 Page 7, 15th February 1996 —
SWEET TASTE OF FUDGE
Close
4 on't just do something—stand there!" No
one could possibly accuse transport min one could possibly accuse transport min ster Steven Norris of "a rush to judge ment" when it comes to tackling the nation's unlicensed truck operators. After an excruciating delay the Department of Transport has coughed up the "preliminary results" of its survey of unlicensed operators. And are we any the wiser as to the actual number of them out there? We are not. The figures, presented in a written answer to a Parliamentary Question, are sweet, sticky and indigestible—in short a fudge. Rather than give an indication of the total number of unlicensed operators currently plying their trade in the UK (which is clearly what everyone in the industry wants to know) the DOT's preliminary results, 'adjusted for statistical bias, ...show that around 1.6% of HGV mileage is by illegal operators." What kind of an answer is that? Ten miles or 10,000 miles, who gives a damn how far the trucks of unlicensed operators are travelling? We certainly don't. All we need to know is how many of them are out there and how the DOT plans to get rid of them. Last year Norris promised that if the survey revealed that more than 2% of those stopped were being run by unlicensed operators he would introduce impounding legislation at the earliest opportunity. Now he says:"Although these results show illegal operation is not as great as previous targeted checks by the VI had indicated, it does reveal a worrying problem. I am therefore considering what further measures I can take to combat illegal vehicle operation." Does that mean impounding is still in? Or not? Heaven knows.
bout the only thing that is clear is that the DOT's method of ascertaining the size of the problem of unlicensed operators—by distance covered—is at best idiosyncratic and at worst completely irrelevant. It justifies it by saying: "This is considered more representative of the implications for
road safety and competition because the potential effects increase with the number of miles travelled." Oh really? If distance is such a major issue for unlicensed operators, what about all the miles being travelled by mechanically unsafe lorries belonging to operators who ARE licensed? Survey or no survey, the bottom line is that there are people out there running trucks who have no intention of ever getting an 0-Licence. They are operating illegally. What's the DOT going to do about it?