New water check shock
15th February 1996
Page 10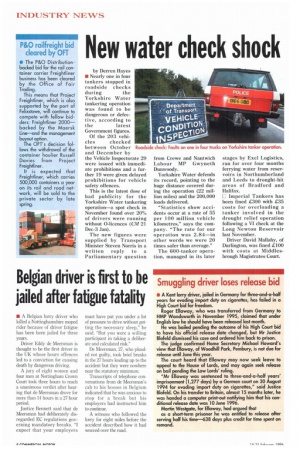 Page 10, 15th February 1996 —
New water check shock
Close
by Derren Hayes • Nearly one in four tankers stopped in roadside checks during the Yorkshire Water tankering operation was found to be dangerous or defective, according to the latest Government figures. Of the 203 vehi cles checked between October and December by the Vehicle Inspectorate 29 were issued with immediate prohibitions and a further 19 were given delayed prohibitions for vehicle safety offences.
This is the latest dose of bad publicity for the Yorkshire Water tankering operation—a spot check in November found over 20% of drivers were running without 0-licences (CM 21 Dec-3 Jan).
The new figures were supplied by Transport Minister Steven Norris in a written reply to a Parliamentary question from Crewe and Nantwich Labour MP Gwyneth Dtmwoody.
Yorkshire Water defends its record, pointing to the huge distance covered during the operation (22 million miles) and the 200,000 loads delivered.
"Statistics show accidents occur at a rate of 55 per 100 million vehicle kilometres," says the company. 'The rate for our operation was 2.84—in other words we were 20 times safer than average."
The 600-tanker operation, managed in its later stages by Exel Logistics, ran for over four months ferrying water from reservoirs in Northumberland and Leeds to drought-hit areas of Bradford and Halifax.
I: Imperial Tankers has been fined £300 with £35 costs for overloading a tanker involved in the drought relief operation following a VI check at the Long Newton Reservoir last November.
Driver David Mallaby, of Darlington, was fined £100 with costs at Middlesbrough Magistrates Court.