Linkman drivers win compensation
15th August 1996
Page 6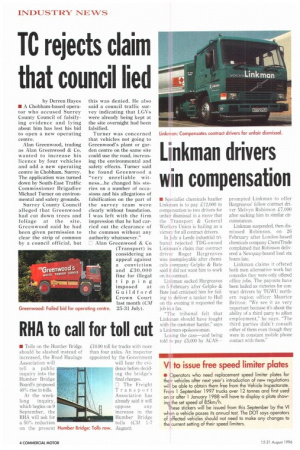 Page 6, 15th August 1996 —
Linkman drivers win compensation
Close
• Specialist chemicals haulier Linkman is to pay £12,000 in compensation to two drivers for unfair dismissal in a move that the Transport & General Workers Union is hailing as a victory for all contract drivers.
In July a Leeds industrial tribunal rejected TUG-owned Linkman's claim that contract driver Roger Hargreaves was unemployable after chemicals company Gelpke & Bate said it did not want him to work on its contract.
Linkman sacked Hargreaves on 5 February after Gelpke & Bate had criticised him for failing to deliver a tanker to Hull on the evening it requested the job in a fax.
"The tribunal felt that Linkman should have fought with the customer harder," says a Linkman spokeswoman.
Losing the case—and being told to pay £5,000 by ACAS—
prompted Linkman to offer Hargreaves' fellow contrail driver Melvyn Robinson 17,000 after sacking him in similar circumstances.
Linkman suspended, then dismissed Robinson, on 26 February after London-based chemicals company ChemiTrade complained that Robinson delivered a Newquay-bound load six hours late.
Linkman claims it offered both men alternative work but concedes they were only offered office jobs. The payouts have been hailed as victories for contract drivers by TGWU northern region officer Maurice Britton: "We see it as very important because it's about the ability of a third party to affect employment," he says. "The third parties didn't consult either of them even though they were in constant mobile phone contact with them."