Goods Transport
15th August 1912
Page 16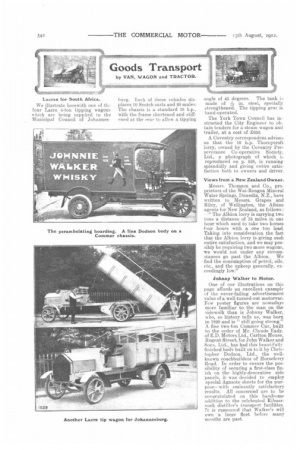 Page 16, 15th August 1912 —
Goods Transport
Close
by VAN, WAGON and TRACTOR.
Lacres for South Africa.
We illustrate herewith one of th:. four Lacre 4-ton tipping wagons which are being supplied to the Municipal Council of Johannes
burg. Each of these vehicles displaces 10 Scotch carts and 20 mules. The chassis is a standard 38 h.p., with the frame shortened and stiffened at the rear to allow a tipping angle of 45 degrees. The tank is made of in. steel, specially strengthened. The tipping gear is hand-operated.
The York Town Council has instructed the City Engineer to obtain tenders for a steam wagon and trailer, at a cost of £650.
A Coventry correspondent advises us that the 16 h.p. Thornyeroft lorry, owned by the Coventry Perseverance Co-operative Society, Ltd., a photograph of which it reproduced on p. 528, is running splendidly and giving entire satisfaction both to owners and driver.
Views from a New Zealand Owner.
Messrs. Thomson and Co., proprietors of the Wai-Rongoa Mineral Water Springs, Dunedin, N.Z., have written to Messrs. Grapes and Riley, of Wellington, the Albion agents for New Zealand, as follows: –" The Albion lorry is carrying two tons a distance of 15 miles in one hour which used to take two horses four hours with a, one ton load. Taking into consideration the fact that the Albion lorry is giving such entire satisfaction, and we may possibly be requiring two more wagons, we would not under any circumstances go past the Albion. We find the consumption of petrol, oils, etc., and the upkeep generally, exceedingly low."
Johnny Walker to Motor.
One of our illustrations on this page affords an excellent example of the never-failing advertisement value of a well-turned-out motorvan. Few poster figures are nowadays more familiar to the man on the sidewalk than is Johnny Walker, who, so history tells us, was born in 1820 and is " still going strong." A fine two-ton Commer Car, built to the order of Mr. Claude Eady, of E.D. Motors Ltd., Carlton House, Regent Street, for John Walker and Sons, Ltd., has had this beau! ifully finished body built on to it by Christopher Dodson, Ltd., the wellknown coaehbuilders of Horseferry Road. In order to ensure the possibility of securing a first-class finish on the highly-decorative side panels, it was decided to employ special Aga,sote sheets for the purpose—with eminently satisfactory results. All concerned are to be congratulated on this handsome addition to the celebrated Kilmarnock distiller's transport facilities. It is rumoured that Walker's will own a large fleet before many months are past.