Passenger-Vehicle Topics.
15th August 1912
Page 12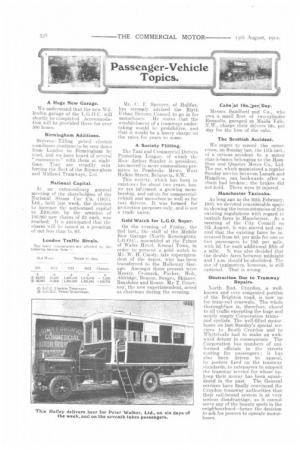 Page 12, 15th August 1912 —
Passenger-Vehicle Topics.
Close
A Huge New Garage.
We understand that the new Willesden garage of the L.G.O.C. will shortly be completed. Accommodation will be provided there for over 500 buses.
Birmingham Additions.
Stevens Tilling petrol electric omnibuses continue to be sent down from London to Birmingham by road, and we have heard of several " encounters " with them at nightlime. They are steadily reinforcing the fleet of the Birmingham and Midland Tramways, Lid.
National Capital.
At an extraordinary general meeting of the shareholders of the National Steam Car Cc. (1911), Ltd., held last week, the decision to increase the authorized capital to 2200.000, by the creation of 100,000 new shares of £1 each, was reached. It is anticipated that the shares will be issued at a. premium of not less than 7s. 8d. Mr. C. F. Spencer, of Halifax, has strongly advised the Myth Urban District Council to go in for motorbuses. He states that the establishment of a tramways undertaking would be prohibitive, and that it would be a heavy charge on the rates for years to come.
A Society Flitting.
The Taxi and Commercial Drivers Protection League, of which the Hon. Arthur Stanley is president, has moved to more commodious premises in Pembroke Mews, West Hal kin Street, Belgravia, S.W.
This society, which has been in existence for about two years, has. we are informed, a growing membership, and eaters for commercialvehicle and motorbus as well as for taxi drivers. It was formed for protection purposes only, and is not a track union.
Gold Watch for L.G.O. Super.
On the evening of Friday, the 2nd inst., the staff of the Middle Row Garage (North Kensington), L.G.O.C., assembled at the Prince of Wales Hotel, Kensal Town, in order to present a gold watch to Mr. W. H. Candy, late superintendent of the depot, who -has been transferred to the Holloway Garage. Amongst those present. were Messrs. Cromack, Parker, Holt, Aldridge, Beacon, Seeger, Skinner, Reashden and Rouse_ Mr. T. Courtney, the new superintendent, acted as chairman during the evening. Cabs :at 16s.per: Day.
Messrs. Sandford and Co., who own a small fleet of two-cylinder Renaults, garaged at Maida Vale, N.W., charge their drivers 16s. per day for the hire of the cabs.
The Scottish 'Accident.
We regret to record the occurrence, on Sunday last, the 11th inst., of a serious accident to a motor char-h-bancs belonging to the Hamilton and Quarter Motor Co., Ltd. The car, which maintained a regular Sunday service between Lanark and Hamilton, ran backwards after a chain had broken ; the brakes did not bold. There were 23 injured.
Manchester ;Taxicabs.
As long ago as the 24th February, 1910, we devoted considerable space to showing the inconsistencies of the existing regulations with regard to taxicab fares in Manchester.. At a meeting of the City Council on 7th August, it was moved and carried that the existing fares be increased from 9d. per mile for one or two passengers to 10d. per mile, with 2d. for each additional fifth of a mile. It was also decided that the double fares between midnight and 7 a.m. should be abolished. The use of taximeters, however, is still optional. That is wrong.
Obstruction Due to Tramway Repairs.
North End, Croydon, a wellknown and very congested portion of the Brighton road, is now up for tram-rail renewals. The whole thoroughfare is, therefore, closed to all traffic excepting the huge and nearly empty Corporation tramsand cyclists. The well-filled motorbuses on last Sunday's special services to South Croydon and to 1..Vhyteleafe had to make an awkward detour in consequence. The Corporation has numbers of uniformed officials in the streets touting for passengers ; it has also been driven to appeal, bv posters fixed on the tramway standards, to ratepayers to support the tramway service for whose upkeep their money has been squandered in the past. The General services have finally convinced the Croydon tramway authorities that their rail-bound system is at very serious disadvantage, as it cannot serve any of the beauty spots in the neighbourhood—hence the decision to ask for powers to operate motorbuses.