limprosmeni
15th April 1915
Page 7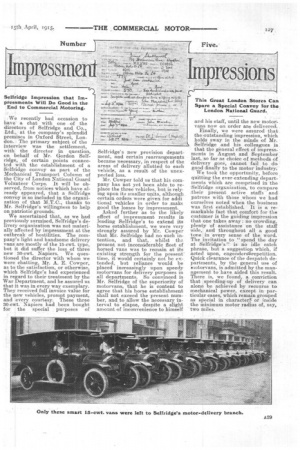 Page 7, 15th April 1915 —
limprosmeni
Close
Selfridge Impression that Impressments Will Do Good in the End to Commercial Motoring.
We recently had occasion to have a chat with one of the directors of Selfridge and Co., Ltd., at the company's splendid premises in Oxford Street, Lon don. The primary subject of the interview was the settlement, with the director in question, on behalf of Mr. Gordon Selfridge, of certain points conneetal with the establishment of a Selfridge convoy as part of the Mechanical Transport Column of the City of London National Guard Volunteer Corps. It will be observed, from notices which have already appeared, that a Selfridge convoy is so included in the organization of that M.T.C., thanks to Mr. Selfridge's willingness to help on patriotic grounds.
We ascertained that, as we had previously surmised, Selfridge's delivery organization was not materially affected by impressment at the outbreak of hostilities. The company's light and handsome delivery vans are mostly of the 15-cwt. type, but it did suffer the loss of three new 30-cwt. Napiers. We questioned the director with whom we were chatting, Mr. A. E. Cowper, as to the satisfaction, or otherwise, which Selfridge's had experienced in regard to their treatment by the War Department, and he assured us that it was in every way exemplary. They received full invoice value for the new vehicles, prompt payment, and every courtesy. These three 30-cwt. Napiers had been bought for the special purposes of Selfridge's new provision department, and certain rearrangements became necessary, in respect of the areas of delivery allotted to each vehicle, as a result of the unexpected loss.
Mr. Cowper told us that his company has not yet been able to replace the three vehicles, but is relying upon its smaller units, although certain orders were given for addi tional vehicles in order to .make good the losses by impressment. Asked further as to the likely effect of impressment results in leading Selfridge's to extend its horse establishment, we were very strongly assured by Mr. Cowper that Mr. Selfridge had no such intention, and that, whilst the present not inconsiderable fleet of horsed vans was to remain at its existing strength for the present' time, it would certainly not be extended, but reliance would be placed increasingly upon speedy motorvans for delivery purposes in all departments. So convinced is Mr. Selfridge of the superiority of motorvans" that he is content to agree that his horse establishment shall not exceed the present number, and to allow the necessary interval to elapse, despite a plight amount of inconvenience to himself