The Avoidance of Light Running.
15th April 1915
Page 2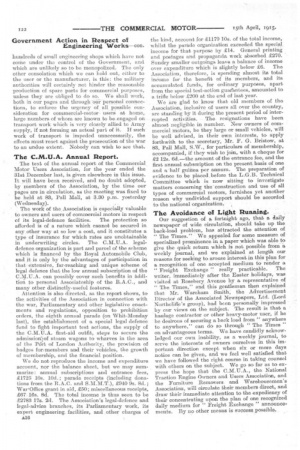 Page 2, 15th April 1915 —
The Avoidance of Light Running.
Close
Our suggestion of a. fortnight ago, that a daily newspaper of wide circulation, should take up the back-load problem, has attracted the attention of " The Times." We appealed for some measure of specialized prominence in a paper which was able to give the quick return which is not possible from a weekly journal, and we explained at length our reasons for seeking to arouse interest in this plan for a recognition of one accepted medium to render a " Freight Exchange " really practicable. The writer, immediately after the Easter holidays, was visited at Rosehery Avenue by a representative of " The Times," and this gentleman then explained that Mr. Wareham Smith, the Advertisement Director of the Associated Newspapers, Ltd. (Lord Northelifle's group), had been personally impressed by our views on the. subject. The result is that a haulage contractor or other heavy-motor user, if he be desirous of securing a back load from " anywhere to anywhere," can do so through "The Times " on advantageous terms. We have candidly acknowledged our own inability, as a weekly journal, to serve the interests of owners ourselves in this important direction except when six or more days notice can be given, and we feel well satisfied that we have followed the right course. in taking counsel with others on the subject. We go so far as to express the hope that the C.M.U.A., the. National Traction Engine Owners and Users Association, and the Furniture Removers. and Warehousemen's Association, will circulate their members direct, and draw their immediate attention to the expediency of their concentrating upon the plan of one. recognized daily medium for " Freight Exchange " announcements. By no other means is success_possible..