Answers to Queries.
15th April 1915
Page 18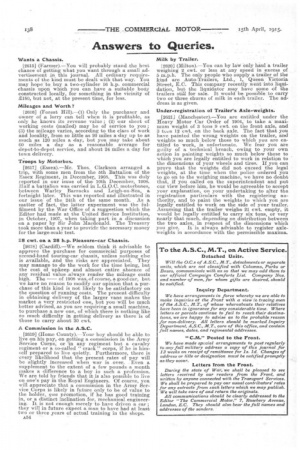 Page 19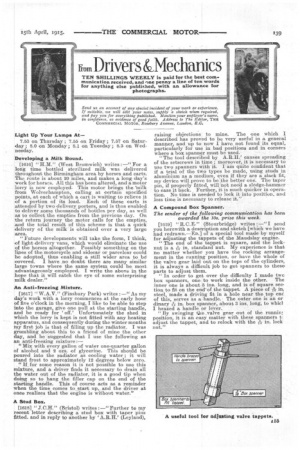 Page 18, 15th April 1915 —
Answers to Queries.
Close
Wants a Chassis.
[2615] (Farrnea).—You will probably stand the best chance of getting what you want through a small advertisement in this journal. All ordinary requirements of the kind must be dealt with that way. You may hope to buy a two-cylinder 16 h.p. commercial chassis upon which you can have a suitable body constructed locally, for something in the vicinity of £180, but not, at the present time, for less.
Mileages and Worth?
[2616] (Forest Hill).—(1) Only the purchaser and owner of a lorry can tell when it is profitable, as only he knows its revenue value ; (a) our sheet of working costs (mailed) may be of service to you ; (3) the mileage varies, according to the class of work and locality, from BO little as 20 miles a day up to as much as 120 miles a day, but you may take about 60 miles a day as a reasonable average for depot-to-depot service, and about 24 Miles a day for town delivery.
Troops by Motorbus.
[2617] (Essex).—Mr. Thos. Clarkson arranged a trip, with some men from the 5th Battalion of the Essex Regiment, in December, 1908. This was duly reported in our issue of the 10th December, 1908. Half a battalion was carried in L.G.O.C. motorbuses, between Warley Barracks and Leigh-on-Sea, a fortnight later. This was reported and illustrated in our issue of the 24th of the same month. As a matter of fact, the latter experiment was the fulfilment by the War Office of a suggestion which the Editor had made at the United Service Institution, in October, 1907, when taking part in a discussion on a paper by Sir John Macdonald. The Treasury took more than a year to provide the necessary money for the large-scale test.
28 cwt. on a 28 h,p. Pleasure-car Chassis.
[2618] (Cardiff).—We seldom think it advisable to approve the purchase for commercial purposes of second-hand touring-car chassis, unless nothing else is available, and the risks are appreciated. They may manage to do the work for the time being, but the cost of upkeep and almost entire absence of any residual value always render the mileage costs high. The — of 1908 was, of course, a good car, but we have no reason to modify our opinion that a purchase of this kind is not likely to be satisfactory on the question of running costs. The present difficulty in obtaining delivery of the larger vans makes the market a very restricted one, but you will be much better advised, as you are requiring a small machine, to purchase a new one, of which there is nothing like
i so much difficulty in getting delivery as there s of those to carry about 30 cwt.
A Commission in the A.S.C.
[2819] (Home County).—Your boy should be able to live on his pay, on getting a commission in the Army Service Corps, or 'in any regiment hut a cavalry regiment or a. so-called " crack corps, if he is himself prepared to live quietly. Furthermore, there is every likelihood that, the present rates of pay will be slightly increased when war is over. . Even a supplement to the extent of a few pounds a month makes a difference to a boy in such a profession. We are told by friends that it is also possible to live on one's pay in the Royal Engineers. Of course, you will appreciate that a commission in the Army 8-ervice Corps is likely in future only to be of value to the holder, qua promotion, if he has good training in, or a distinct inclination for, mechanical engineering. It is not enough merely to have driven a car; they will in future expect a man to have had at least two or three years of actual training in the shops.
A54 Milk by Trailer.
[26201 (Milton).—You can by law only haul a trailer weighing 2 cwt. or less at any speed in excess of 5 m.p.h. The only people who supply a trailer of the kind are Auto-Trailers, Ltd., 1, Queen Victoria Street, E.C. This company recently went into liquidation, but the liquidator may have' sonic of the trailers still for sale. It would be possible to carry two or three chums of milk in each trailer. The address is as given.
Under-registration of Trailer's Axle-weights.
[2621] (Manchester).—You are entitled under the Heavy Motor Car Order of 1904, to take a maximum weight of 3 tons 9 cwt. on the front axle, and 3 bias 12 cwt. on the back axle. The fact that you have painted the wrong weights on the trailer, a.nd weights so much below those to which you are entitled to work, is unfortunate. We fear you are guilty of a technical breach, owing to your own action in painting weights so much below those to which you are legally entitled to work in relatien to the dimensions of your wheels and tires. If you can prove that the weights did not exceed the legal weights, at the time when the police ordered you to go on to the weighing machine, we have no doubt that, if you called on the superintendent and put our view before him, he would be agreeable to accept your explanation, on your undertaking to alter the registration particulars with the registering authority, and to paint the weights to which you are legally entitled to work on the side of your trailer. Assuming that the trailer weighs 21 cwt. empty, it would be legally entitled to carry six tons, or very nearly that much, depending on distribution between the two axles, in respect of the dimensions which you give. It is always advisable to register axleweights in accordance with the permissible maxima. 7.53 on Thureday ; 7.55 on Friday ; 7.57 on Saturday; 8.0 on Monday ; 8.1 on Tuesday ; 8.3 on Wednesday.
Developing a Milk Round.
[1616] "H.M." (West Bromwich) writes For a long time bottled sterilized milk was delivered throughout the Birmingham area by horses and carts. The route is about 20 miles, and makes a king day's work for horses. All this has been altered, and a motor lorry is now employedThis motor brings the 'milk from Wolverhampton, calling at certain specified points, at each of which a cart is waiting to relieve it of a portion of its load. Each of these carts is attended by two delivery porters, and is thus enabled to deliver some thousands of bottles per day, as well as to Collect the empties from the previous day. On the return journey the motor calls for the empties, and the total result of this scheme is that a quick delivery of the milk is obtained over a very large area.
"Future developments will take the form, I think, of light delivery vans, which would eliminate the use of the horses altogether. Possibly something on the lines of the motorcycle and sidecar or parcelear could be adopted, thus enabling a still wider area to be covered. I have no doubt there are many similar large towns where the same system could be most advantageously employed. I write the above in the hope that it will catch the eye of some enterprising milk dealer."
An Anti-freezing Mixture.
[1617] W.A.V." (Finsbury Park) writes :—" As my day's work with a lorry commences at the early hour of five o'clock in the morning, I like to be able to step into the garage, give one pull at the starting handle, and be ready for 'off.' Unfortunately the shed in which the lorry is kept is not fitted with any heating apparatus, and consequently during the winter months My first job is that of filling up the radiator. I was grumbling about this to a friend of mine the other day, and he suggested that I use the following as an anti-freezing mixture:— " Mix with every gallon of water one-quarter gallon of alcohol and 2 ozs. of glycerine. This should be poured into the radiator as coaling water ; it will stand frost to approximately 12 d.egrees below zero. " If. for some reason it is not possible to use this mixture, and a driver finds it necessary to drain all the water out of the radiator, it is a good tip when doing so to hang the filler cap on the end of the starting handle. This of course acts as a reminder when the time comes to start up, and the driver at once realizes that the engine is without water."
A Stud Box.
[1618] "J.C.Ii." (Bristol) writes :—" Further to my recent letter describing a stud box with taper pins fitted. and in reply to another by A.R.H.' (Leyland), raising objections to mine. The one which I described has proved to be very useful in a general manner, and up to now I have not found its equal, particularly for use in bad positions and in corners where a box spanner must be used.
"The tool described by A.R.H.' causes spreading of the setscrews in time ; Moreover, it is necessary to use two spanners with it. I am quite confident that . if a trial of the two types be made, using studs in aluminium as. a medium, even if they are a slack fit, my device will prove to be the better one. The taper pin, if properly fitted, will :not need a sledge-hammer
to ease it back. Further, it is much quicker in opera. bon. No time is needed to leek it into position, and less time is necessary to release it." A Compound Box Spanner.
The sender of the following communication has been awarded the Ws. prize this week.
[1619] " (Stourbridge) writes : —" I send you herewith a description and sketch [which we have had redrawn.—En.] of a special tool made by myself for adjusting the tappets of the Maudslay engine. "The end of the tappet is square, and the lock nut is a in. standard nut. My experience is that no matter whether you have the rocking arrangement in the running position, or have the whole of the valve gear laid out on the tops of the cylinders, it is always a difficult job to get spanners to these parts to adjust them. "In order to get over the difficulty I made two box spanners, one to work inside the other. The inner one is about 5 ins, long, and is of square see. tion to fit on the end' ofthe tappet. A piece of *, in. steel, made a driving fit in a. hole near the top enC of this, serves as a .handle.The outer one is an or dinary in. box spanner, about 3 ins, long, to whicl I brazed a handle or lever.
"By swinging the ,valve gear out of the runnint position, it is an easy matter with these. spanners tr: adjust the tappet, and to relock with the iir in. lock nut."