Additional Dilemmas for Users Due to War Effects.
15th April 1915
Page 1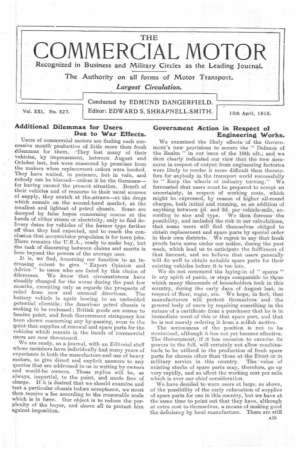 Page 1, 15th April 1915 —
Additional Dilemmas for Users Due to War Effects.
Close
Users of commercial motors are finding each successive month productive of little more than fresh dilemmas for them. -They lost many of their vehicles, by impressment, between August and October last, but were reassured by promises from the makers when replacement orders were booked. They have waited, in patience, but in vain, and nobody can be blamed—unless it be the Germans— for having caused the present situation. Bereft of their vehicles and of recourse to their usual sources of supply, they snatch at the,straws—at the dregs which remain on the second-hand market, at the smallest and lightest of petrol chassis. Some are decoyed by false hopes concerning rescue at the hands of either steam or electricity, only to find delivery dates for vehicles of the former type farther off than they had expected, and to reach the conclueion. that accumulator propulsion is for town jobs. There remains the U.S.A., ready to make hay, but the task of discerning between claims and merits is here beyond the powers of the average user. It is, we find, becoming our function to an increasing extent to give " Expert Opinion and Advice" to users who are faced by this choice of dilemmas. We know that circumstances have steadily changed for the worse during the past few months, excepting only as regards the prospects of relief from new and unusual directions. The battery vehicle is again bowing to an undecided potential clientele; the American petrol Chassis is seeking to be reclassed; British goods are scarce to famine point, and fresh Government stringency has been shown concerning any by-passing, even to the point that supplies of renewal and spare parts for the vehicles which remain in the hands of commercial users are now threatened.
We are ready, as a journal, with an Editorial staff whose menabers have individually had many years of experience in both the manufacture and use of heavy motors, to give direct and explicit answers to any queries that are addressed to us in writing by owners and would-be owners. These replies will be, as always, impartial, to the point, and made free of charge. If it is desired that we should examine and test a particular chassis before acceptance, we must then receive a fee according to the reasonable scale which is in force. Our object is to reduce the perplexity of the buyer, and above all to protect him against imposition.