What Fleet Expansion Means
14th November 1952
Page 58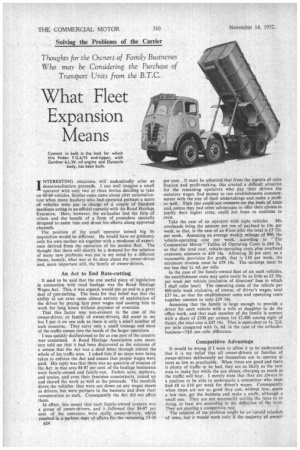 Page 58, 14th November 1952 —
What Fleet Expansion Means
Close
Cement in bulk is the load for which this Foden F.G.6/15 end-tipper, with Gardner 6.LW. oil engine and Duramin body, has been built.
INTERESTING situations will undoubtedly arise as denationalization proceeds. I can well imagine a small operator with only two or three lorries deciding to take on 40-60 vehicles. Similar cases came about after nationalization when many hauliers who had operated perhaps a score of vehicles were put in charge of a couple of hundred machines acting in an official capacity with the Road Haulage Executive. Here, however, the ex-haulier had the help of others and the benefit of a form of procedure specially designed to assist him and direct his efforts along approved channels.
The position of the small operator turned big by acquisition would be different. He would have no guidance, only his own mother wit together with a modicum of experience derived from the operation of his modest fleet. The thought that there will shortly be a demand for the solution of many new problems was put in my mind by a different theme, namely, what was to be done about the owner-driver and, more important still, the family of owner-drivers.
An Act to End Rate-cutting
It used to be said that the one useful piece of legislation in connection with road haulage was the Road Haulage Wages Act. This, it was argued, would put an end to a great deal of rate-cutting. The basis for that belief was that the ability to cut rates came almost entirely of exploitation of the driver by paying him poor wages and causing him to work for long hours without payment of overtime.
That this factor was non-existent in the case of the owner-driver, or family of owner-drivers, did occur to me but I put it on one side as there is only a small number of such concerns. They carry only a small tonnage and most of the traffic comes into the hands of the larger operators.
I was quickly disillusioned so far as one part of the country was concerned. A Road Haulage Association area secretary told me that it had been discovered as the outcome of a census that the Act was a dead letter through almost the whole of his traffic area. I asked him if no steps were being taken to enforce the Act and ensure that proper wages were paid. His reply was that there was no question of evasion of the Act: in that area 84-87 per cent. of the haulage businesses were family-owned and family-run. Father, sons: nephews, and uncles, and even their feminine counterparts, joined up and shared the work as well as the proceeds. The menfolk drove the vehicles: they were not down on any wages sheets as drivers, but were partners in the business and drew their remuneration as such. Consequently the Act did not affect them.
In effect, this meant that each family-owned concern was a group of owner-drivers, and it followed that 84-87 per cent. of the operators were really owner-drivers, which resulted in aparlous state of affairs for the remaining 13-16 B24 per cent. It must be admitted that from the aspects of rates fixation and profit-making, this created a difficult situation for the remaining operators who pay their drivers the statutory wages, find money to run establishments commensurate with the size of their undertakings and make a profit as well. They just could 'not compete on the basis of rates and, unless they had other advantages to offer their clients to justify their higher rates, could not hope to continue to exist.
Take the case of an operator with eight vehicles. His overheads bring the amount per ton of payload to 14s. per week, so that, in the case of an 8-ton oiler the total is £5 12s. per week. Assuming an average weekly mileage of 800, the vehicle-operating cost per week, according to "The Commercial Motor" Tables of Operating Costs is £44 2s., so that the total cost, vehicle-operating costs plus overhead expenses, amounts to £49 14s. Allowing 20 per cent. as a reasonable provision for profit, that is £10 per week, the minimum revenue must be £59 14s. The earnings must be not less that Is. 6d. per mile.
In the case of the family-owned fleet of six such vehicles. the establishment costs may quite easily be as little as £2 10s. per week per vehicle (exclusive of directors' fees to which I shall refer later). The operating costs of the vehicle per 800-mile week exclusive, of course, of driver's wages, total £37 6s., so that the establishment costs and operating costs together amount to only £39 I6s.
Assuming that the family is large enough to provide a driver for each vehicle with a wife or daughter to do the office work, and that each member of the family is content with a share of £300 per annum (or £2,400 among eight of them), the total cost is £47 16s. That is equivalent to Is. 21d. per mile compared with Is. 6d. in the case of the orthodox business-31d. per mile difference.
Competitive Advantage
It would be wrong if I were to allow it to be understood that it is my belief that all owner-drivers or families of owner-drivers deliberately set themselves out to operate at rates as low as practicable. When times are good and there is plenty of traffic to he had, they are as likely as the next man to make hay while the sun shines, charging as much as the traffic will hear. 1 merely stale that they are always in a position to be able to underquote a competitor who must find £8 to £10 per week for driver's wages. Consequently when times are not so good they can, without loss, quote a low rate, get the business and make a profit, although a small one. They are not necessarily cutting the rates in so doing, at least not according to my definition of the term. They are quoting a competitive rate.
The solution of the problem might he an 'agreed schedule of rates, but it would work only if the Majority of owner