Rolling Round London.
14th May 1914
Page 6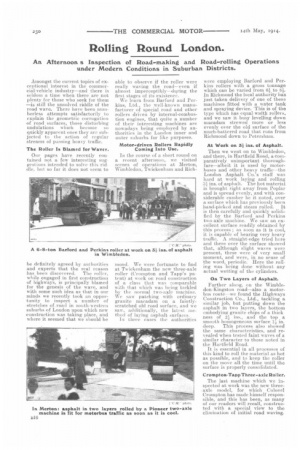 Page 7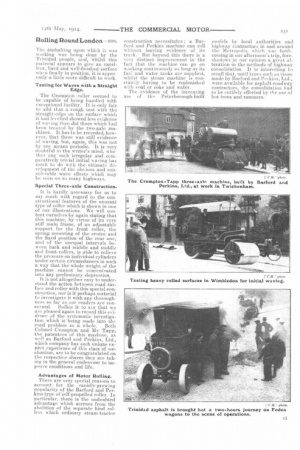 Page 6, 14th May 1914 —
Rolling Round London.
Close
An Afternoon s Inspection of Road-making and Road-rolling Operations under Modern Conditions in Suburban Districts.
Amongst the current topics of exceptional interest in the commercial-vehicle industry—and there is seldom a time when there are not plenty for those who seek for them —is still the unsolved riddle of the road wave. There have been numberless attempts satisfactorily to explain the geometric corrugation of road surfaces, those disturbing undulations which become so quickly apparent once they are subjected to the action of regular streams of passing heavy traffic.
The Roller Is Blamed for Waves.
Our pages have recently contained not a few interesting suggestions intended to solve this riddle, but so far it does not seem to be definitely agreed by authorities and experts that the real reason
has been discovered. The roller, while engaged in first construction of highways, is principally blamed for the genesis of the wave, and with some such idea as that in our minds we recently took an opportunity to inspect a number of stretches of.road in south-western suburbs of London upon which new construction was taking place, and where it seemed that we should be
able to observe if the roller were really waving the road—even if almost imperceptibly—diving the first. stages of its existence.
We learn from Barford and Perkins, Ltd., the well-known manufacturer of special road and other rollers driven by internal-combustion engines, that quite a. number of their interesting machines are nowadays being employed by authorities in the London inner and outer suburbs for like purposes.
Motor-driven Rollers Rapidly Coming Into Use.
In the course of a short round on a recent afternoon, we visited scenes of operations at Merton, Wimbledon, Twickenham and Rich
mend. We were fortunate to find at Twickenham the new three-axle roller (Crompton and Tapp's patent) at work on road construction of a class that was -eomparable with that which was being tatkled. by the normal two-axle machine. We saw patching with ordinary granite macadam on a faintlyscratched old road surface, and we saw, additionally, the latest method of laying asphalt surfaces.
In three eases the authorities
were employing Barford and Perkins rollers with a gross tonnage which can be varied from 6,1 to 64. In Richmond the local authority has just taken delivery of one of these machines fitted with a water tank and spraying device. This is of the type which has equal-width rollers, and we saw it busy levelling down macadam strewed more or less evenly over the old surface of the much-battered road that runs from Richmond down to Petersham.
At Work on Se ins. of Asphalt.
Then we went on to Wimbledon, and there, in Hartfield Road, &comparatively unimportant thoroughfare—albeit it is used by motorbuses and other heavy tra.ffic --the London Asphalt Co.'s staff was hard at work laying and rolling 81 ins, of asphalt. The hot material is brought right away from Poplar and is spread evenly, and with considerable camber be it noted, over a surface which has previously been hand-picked and steam rolled. It is then carefully and quickly solidified by the Barford and Perkins two-axle machine. We saw an excellent surface readily obtained by this process ; as soon as it is cool, it is capable of bearing very heavy traffic. A straight-edge tried here and there over the surface showed that, although slight waves were present, these were of very small moment, and were, in no sense of the word, periodic. Here the rolling was being done without any actual wetting of the cylinders.
On Two Layers of Asphalt.
Further along, on the Wimbledon-Kingston road—also a motorbus route -we Co.,ound the highways Construction C Ltd., tackling a similar job, but putting down the asphalt in two layers, the bottom embodying granite chips of a thick ness of 2?, ins., and the top a smooth homogeneous surface V, in.
deep. This process also showed the same characteristics, and revealed when tested faint waves of a similar character to those noted in the Hartfield Road.
It is essential in all processes of this kind to roll the material as hot as possible, and to keep the roller on the move all the time until the surface is properly consolidated.
Crompton-Tapp Three-axle Rcdler.
The last machine which we inspected at work was the new threeaxle model, for which Colonel Crompton has made himself responsible, and this has been, as many of our readers will recall, constructed with a special view to the elimination of initial road waving.
The asphalting upon which it was working was lacing done by the Trinidad people, and, whilst this mai erial appears to give an excellent, hard and well-finished surface when finally in position, it is apparently a little more difficult to work,
Testing for Waves with a Straight
Edge.
The Crompton roller seemed to be capable of being handled with exceptional facility. It is only fair to add that a rough test with the. straight-edge on the surface which it had levelled showed less evidence -of waving than did those which had been treated by the two-axle machines. It has to be recorded, however, that there was still evidence of waving, but, again, this was not by any means periodic. It is very doubtful in the writer's mind, whether any such irregular and comparatively trivial initial waving has much to do with the ultimate development of the obvious and considerable wave effects which may be seen on so many highways.
Special Three-axle Construction.
it is hardly necessary for us to say much with regard to the constructional features of the unusual typo of roller which is shown in one of our illustrations. We will content ourselves by again stating that this machine, by virtue of its very stiff main frame, of an adjustable support for the front roller, the spring mounting of the centre and the fixed position of the rear one, and of the unequal intervals beween back and middle and middle and front rollers, is able to relieve the pressure on individual cylinders under certain circumstances in such a way that the whole weight of the machine cannot be concentrated into any preliminary depression. Tt is not altogether easy to understand the action between road surface and roller with this special construction, nor is it perhaps material to investigate it with any thoroughness so far as our readers are concerned. Suffice it to say that we are pleased again to record this evidence of the systematic investigation which is being made into the road problem as a whole. Both Colonel Crompton and Mr. Tapp, the patentees of this machine, as well as Barford -and Perkins, Ltd., which company has such unique expert experience of this class of mechanism, are to be congratulated on the respective shares they are taking in the general endeavour to improve conditions and life.
Advantages of Motor Rolling.
There are very special reasons to account for the rapidly-growing popularity of the Barford and Perkins type of self-propelled roller. In particular, there is the undoubted advantage which accrues from the abolition of the separate hind rollers which ordinary steam-tractor construction necessitates ; a Barford and Perkins machine can roll without leaving evidence of its track. But beyond this there is a very distinct improvement in the fact that the machine can go on working continuously so long as its fuel and water tanks are supplied, whilst the steam machine is constantly having to be replenished with coal or coke and water.
The evidence of the increasing use of the Peterborough-built moriels by local authorities and highway contractors in and around the Metropolis, which was forthcoming in our afternoon's trip, foreshadows in our opinion a great alteration in the methods of highway consolidation. It is interesting tel recall that, until types such as those made by Barford and Perkins, Ltd., were available for asphalt-roadway contractors, the consolidation had to be entifely effected by the use of hot irons and rammers.