Answers to Queries.
14th May 1914
Page 22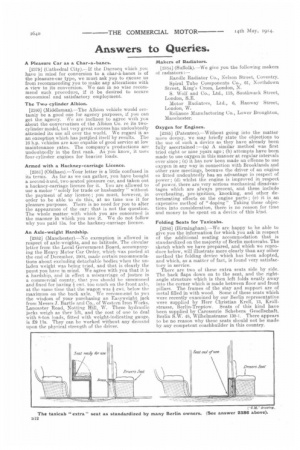 Page 22, 14th May 1914 —
Answers to Queries.
Close
A Pleasure Car as a Char-a-bancs.
[2379J (Cathedral City).— If the Darracq which you have in mind for conversion to a char-k-banes is of the pleasure-ear type, we must ask you to excuse us from recommending you to make any alterations with a view to its conversion. We can in no wise recommend such procedure, if it be desired to secure economical and satisfactory employment.
The Two-cylinder Albion.
[2380] (Middleman).—The Albion vehicle would certainly be a good one for agency purposes, if you can get the agency. We are inclined to agree with you about the conversatisin of the Albion Co. re its twocylinder model, but very great success has undoubtedly attended its use all over the world. IV° regard it as an exception which has justified itself by results. The 16 h.p. vehicles are also capable of good service at low maintenance rates. The company's productions are undoubtedly in the first rank. As you know, it uses four-cylinder engines for heavier loads.
Armed with a Hackney-carriage Licence.
[2381] (Oldham).—Your letter is a little confused in its terms. As far as we can gather, you have bought a second-hand, two-seated pleasure car, and taken out a hackney-carriage licence for it. You are allowed to use a motor "solely for trade or husbandry" without the payment of any licence ; you must, however, in order to be able to do this, at no time use it for pleasure purposes. There is no need for you to alter the appearance of the car: that is not the question. The whole matter with which you are concerned is the manner in which you use it. We do not follow why you paid 15s. for the hackney-carriage licence.
An Axle-weight Hardship.
[2382] (Manchester).—No exemption is allowed in respect of axle-weights, and no latitude. The circular letter from the Local Government Board, accompanying the Heavy Motor Car Order, which was posted at the end of December, 1904, made certain recommendations about excluding detachable loodiee when the unladen weight was being tried, and that is clearly the point you -have in mind. We agree with you that it is a hardship, and in effect a miscarriage of justice in a commercial county, that you should be summoned and fined for having cwt. too much on the front axle, at the same time that the wagon was cwt. below the maximum on the back axle. We recommend to you the wisdom of your purchasing an Easyweight jack from Messrs J. Bartle and Co., of Western Iron Works, Lancaster Road, Notting Hill, W. These hydraulic jacks weigh as they lift, and the cost of one to deal with 8-ton loads, fitted with weight-indicating gauge, is 29 13s. They can be worked without any demand upon the physical strength of the driver.
Makers of Radiators.
12384] (Suliolk).—We give you the following makers et radiators:— Randle Radiator Co., Nelson Street, Coventry. Spiral Tube Components Co., 61, Northdown Street, King's Cross, London, N.
S. Wolf and Co., Ltd., 115, Southwark Street, London, S.E.
Motor Radiators, Ltd., 6, Hanway Street, London, W.
Reliance Manufacturing Co., Lower Broughton, Manchester.
Oxygen for Engines.
[2385] (Patentee).—Without going into the matter more deeply, we may briefly state the objections to the use of such a device as they have already been fully ascertained :—(a) A similar method was first tried eight or nine years ago ; (b) attempts have been made to use oxygen in this manner at regular intervals ever since ; (c) it has now been made an offence to use oxygen in any way in connection with Brooklands and other race meetings, because the driver of an engine so fitted undoubtedly has an advantage in respect of power; (d) whilst the engine is improved in respect of power, there are very serious mechanical disadvantages which are always present, and these include overheating, pre-ignition, knocking, and other deteriorating effects on the engine parts ; (e) it is an expensive method of " doping " Taking these objections into consideration, there is no reason for time and money to he spent on a device of this kind.
Folding Seats for Taxicabs.
[2386] (Birmingham).—We are happy to be able to give you the information for which you ask in respect of the additional seating accommodation that is standardized on the majority of Berlin motorcabs. The sketch which we have prepared, and which we reproduce below, will illustrate more clearly than any other method the folding device which has been adopted, and which, as a matter of fact, is found very satisfactory in service.
There are two of these extra seats side by side. The back flaps down on to the seat, and the rightangle structure which is then left folds neatly away into the corner which is made between floor and front pillars. The frames of the stay and support are of metal filled in with wood. Some of these seats which were recently examined by our Berlin representative were supplied by Herr Christian Krell, 13, Krullstrasse, Berlin-Treptow. Seats of this kind have been supplied by Carosserie Schebera Gesellschaft, Berlin S.W. 48, Wilhelmstrasse 130-1. There appears to be no reason why these seats should not be made by any competent coachhuilder in this country.