FIRST PARTICULARS OF A NEW CLARKSON COKE-FIRED CHASSIS.
14th May 1914
Page 20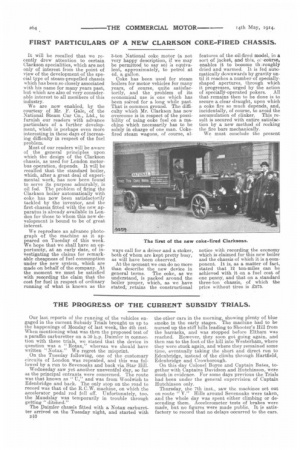 Page 20, 14th May 1914 —
FIRST PARTICULARS OF A NEW CLARKSON COKE-FIRED CHASSIS.
Close
It will be recalled that we recently drew attention to certain Clarkson specialities, which are not only of interest from the point of view of the development of the special type of steam-propelled chassis which has been so closely associated with his name for many years past, but which are also of very considerable interest to all mernbers of this industry.
We are now enabled, by the courtesy of Mr. F. Gale, of the National Steam Car Co., Ltd., to furnish our readers with advance particulars of a further development, which is perhaps even more interesting in these days of increasing difficulty in respect of the fuel problem..
Most of our readers will be aware of the general principles upon which the design of the Clarkson chassis, as used for London motorbus operation, depends. It will be recalled that the standard boiler, which, after a great deal of experimental work, has now been found to serve its purpose admirably, is oil fed. The problem of firing the Clarkson boiler automatically with coke has now been satisfactorily tackled by the inventor, and the first chassis fitted with the new apparatus is already available in London for those to whom this new development is bound to be of great interest.
We reproduce an advance photograph of the machine as it appeared on Tuesday of this week. We hope that we shall have an opportunity, at an early date, of investigating the claims for remarkable cheapness of fuel consumption under the new system, which are made on behalf of the company. At the moment we must be satisfied with recording the claim that the cost for fuel in respect of ordinary running of what is known as the 3-ton National coke motor (a not very happy description, if we may be permitted to say so) is equivalent, approximately, to petrol at 4d. a gallon. Coke has been used for steam boilers for motor vehicles for many years, of course, quite satisfactorily, and the problem of its economical use is one which has been solved for a long while past. That is common ground. The difficulty which Mr. Clarkson has now overcome is in respect of the possibility of using coke fuel on a machine which necessarily has to be solely in charge of one man. Cokefired steam wagons, of course, al ways call for a. driver and a, stoker, both of whom are kept pretty busy, as will have been observed.
At the moment we can do no more than describe the new device in general terms. The coke, as we understand, is packed around the boiler proper, which, as we have stated, retains the constructional
features of the oil-fired model, in a sort of jacket, and this, course, enables it to become th.iroughly dried and warmed. It is fed automatically downwards by gravity until it reaches a number of speciallyshaped apertures, through which it progresses, urged by the action of specially-operated pokers. All that remains then to be done is to secure a clear draught, upon which a coke fire so much depends, and, incidentally, of course, to avoid the accumulation of clinker. This result is secured with entire satisfaction by a new method of rocking the fire bars mechanically.
We must conclude the present notice with recording the economy which is claimed for this new boiler and the chassis of which it is a component. It is, as a matter of fact, stated that 12 ton-miles can be achieved with it on a fuel cost of one penny, and that on a standard three-ton chassis, of which the price without tires is 2575.