Electrics for Work in Mines
14th March 1952
Page 48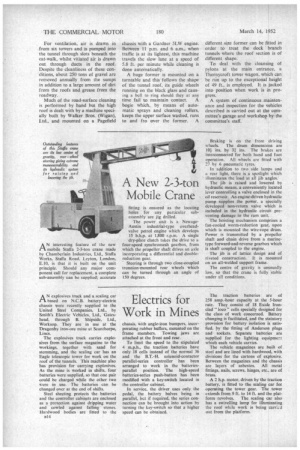 Page 48, 14th March 1952 —
Electrics for Work in Mines
Close
A N explosives truck and a scaling car
based on N.C.B. battery-electric chassis were recently supplied to the United Steel Companies, Ltd., by Smith's Electric Vehicles, Ltd., 'Gateshead, through B. Shipside, Ltd., Worksop. They are in use at the Dragonby iron-ore mine at Scunthorpe, Lincs.
The explosives truck carries explosives from the surface magazine to the workings, together with sand for stemming, and the scaling car has an Eagle telescopic tower for work on the roof of the tunnels. This machine also has provision for carrying explosives. As the mine is worked in shifts, four batteries were supplied, so that one pair could he charged while the other two sere in use. The batteries can be changed over at the end of shifts.
Steel sheeting protects the batteries and the controller cabinets are enclosed as a protection against dripping water and cowled against falling stones. Hardwood bodies are fitted to the al4 chassis, with angle-iron bumpers, incorporating rubber buffers, mounted on the frame members. Towing jaws are attached at the front and rear.
To limit the speed to the stipulated 4 m.p.h., the traction batteries have only 18 cells instead of the normal 36 and the B.T.-H. solenoid-contactor parallel-series controller has been arranged to work in the batteriesparallel position. The high-speed batteries-series push-button has been modified with a key-switch located in the controller cabinet.
In service, the driver uses only the pedal, the battery halves being in parallel, bet if required, the series connection can be brought into action by turning the key-switch so that a higher speed can be obtained. The traction batteries are of 258 amp.-hour capacity at the 5-hour rate. They consist of 18 Exide Ironclad " loco " cells specially designed for the class of work concerned. Battery changing is facilitated, .and the statutory provision for battery isolation is satisfied, by the fitting of Anderson plugs and sockets. Separate batteries are supplied for the lighting equipmert which each vehicle carries. .
The vehicle magazines are built of steel and are lined with hardwood, with divisions for the cartons of explosive. Between the magazines and the chassis are layers of asbestos. All metal fittings, nails, screws, hinges, etc., are of brass.
A 2 h.p. motor, driven by the traction battery, is fitted to the scaling car for operating the tower gear. The tower extends from 9 ft. to 14 ft. and the plat
form revolves. The scaling car also has a swivelling lamp for illuminating the roof while work is being carried out from the platform.