Rapid Recovery By Ashley Taylor Avoids A M.l.R.T.E.
14th March 1952
Page 46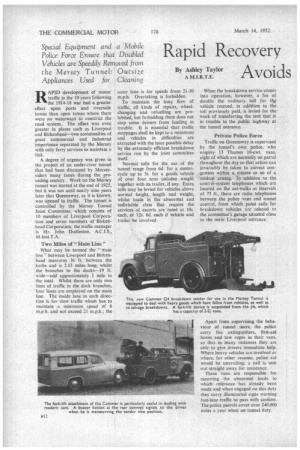 Page 47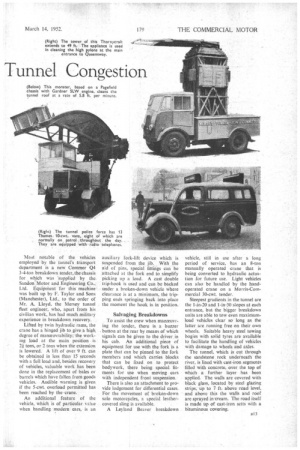 Page 48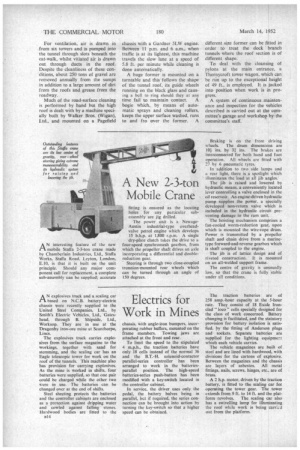 Page 46, 14th March 1952 —
Rapid Recovery By Ashley Taylor Avoids A M.l.R.T.E.
Close
Keywords :
Tunnel Congestion
RAPID development of motor traffic in the 10 years following the 191418 war had a greater effect upon ports and riverside towns than upon towns where there were no waterways to constrict the road system. The effect was even greater in places such as Liverpool and Birkenhead—two communities of great commercial and industrial importance separated by the Mersey with only ferry services to maintain a link.
A degree of urgency was given to the project of an under-river tunnel that had been discussed by Merseyskiers many times during the preceding century. Work on the Mersey tunnel was started at the end of 1925, but it was not until nearly nine years later that Queensway, as it is known, was opened to traffic. The tunnel is controlled by the Mersey Tunnel Joint Committee, which consists of 10 members of Liverpool Corporation and seven members of Birkenhead Corporation; the traffic manager is Mr. John Dudleston, A.C.I.S., M Inst.T.A.
Two Miles of "Main Line" '
What may be termed the "main line" between Liverpool and Birkenhead measures 36 ft. between the kerbs and is 2.13 miles long, whilst the branches to the docks—I9 ft. wide—add approximately I mile to the total. Whilst there are only two lines of traffic in the dock branches, four lanes are employed on the main line. The inside lane in each direction is for slow traffic which has to maintain a minimum speed of 6 mph. and pot exceed 21 m.p.h.; the outer lane is for speeds from 21-30 m.p.h. Overtaking is forbidden.
To maintain the busy flow of traffic, all kinds of repairs, wheelchanging and refuelling are prohibited, but forbidding them does not stop some drivers from landing in trouble. It is essential that traffic stoppages shall be kept to a minimum and vehicles in difficulties are extracted with the least possible delay by the extremely efficient breakdown service run by the joint committee itself.
Normal. tolls for the use of the tunnel range from 6d. for a motorcycle up to 5s. for a goods vehicle of over four tons unladen weight together with its trailer, if any. Extra tolls may be levied for vehicles above normal height, length and weight. whilst loads in the abnormal and indivisible class that require the services of escorts are rated at 10s. each, or 12s. 6d. each if vehicle and trailer be involved
When the breakdown service comes into operation, however, a fee of double the ordinary toll for tht vehicle rescued, in addition to the toll previously paid, is levied for the work of transferring the unit that is in trouble to the public highway at the tunnel entrance.
Private Police Force Traffic on Queensway is supervised by the tunnel's own police, who employ 13 Thames 10-cwt. vans, eight of which are normally on patrol throughout the day so that action can invariably be taken to correct congestion within a minute or so of a mishap arising. In addition to the control-system telephones which are located on the cat-walks at intervals of 75 ft., there are radio telephones between the police vans and tunnel control., from which point calls for breakdown vehicles arc relayed to the committee's garage situated close to the main Liverpool entrance.
Apart from supervising the behaviour of tunnel users, the police carry fire extinguishers, first-aid boxes and tow ropes in their vans, so that in many instances they are able to give drivers immediate help. Where heavy vehicles are involved or where, for other reasons, police aid would be unavailing, a call is sent out straight away for assistance.
These vans are responsible for . escorting the abnormal loads to which reference has already been made and when engaged on this duty they carry illuminated signs warning fast-lane traffic to pass with caution. The police patrols cover over 240,000 miles a year when on tunnel duty. 1V1e,st notable of the vehicles employed by the tunnel's transport department is a new Cornmer Q4 3-4-ton breakdown tender, the chassis for which was supplied by the. Sandon _Motor and Engineering Co., Ltd. Equipment for this machine was built up by E Taylor and Sons (Manchester), Ltd., to the order of Mr. A. Lloyd, the Mersey tunnel fleet engineer, who, apart from his civilian work, has had much military experience in breakdown recovery.
Lifted by twin hydraulic rams, the crane has a hinged jib to give a high, degree of manceuvrability; the working load at the main position is
tons, or 2 tons when the extension is lowered. A lift of over 9 ft. can be obtained in less than 15 seconds with a full load and, besides recover y of vehicles, valuable work has been done in the replacement of hales or barrels which have fallen from goods vehicles. Audible warning is given if the 5-cwt. overload permitted has been reached by the crane.
An additional feature of the vehicle, which is of particular value when handling modern cars, is an auxiliary fork-lift device which is suspended from the jib. With the aid of pins, special littirigs can be attached at the fork end to simplify picking up a load. A cast double trici-hook is used and can be backed under a broken-down vehicle where clearance is at a minimum, the tripping ends springing back into place the moment the hook is in position. • Salvaging Breakdowns To assist the crew when manceuvring the tender, there is a buzzer button at the rear by means of which signals can be given to the driver, in his cab. An additional piece of equipment for use with the fork is a plate that can be pinned to the fork members and which carries blocks that can be fixed on to protect bodywork, there being special fitments for use when moving cars With independent front suspension.
There is also an attachment to provide lodgement for differential cases. For the movement of broken-down solo motorcycles, a special leathercovered sling is available.
A Leyland Beaver breakdown vehicle, still in use after a long period of service, has an 8-ton manually operated crane that is being converted to hydraulic actuation for future use. Light vehicles can also be handled by the handoperated crane on a Morris-Commercial 30-cwt. tender.
Steepest gradients in the tunnel are the 1-in-20 and I-in-30 slopes at each entrance, but the bigger breakdown units are able to tow even maximumload vehicles clear so long as the latter are running free on their own wheels. Suitable heavy steel towing bogies with solid tyres are available to facilitate the handling of vehicles with damage to wheels and axles.
The tunnel, which is cut through the sandstone rock underneath the river, is lined with east-iron segments filled with concrete, over the top of which a further layer has been applied. The walls are covered with black glass, located by steel glazing strips, up' to 7 ft; above -road level, and above this the walls and roof are sprayed in cream. The road itself is made up of cast-iron setts with a bituminous covering. For ventilation, air is drawn in .from six towers and is pumped into the tunnel through slots beneath the cat-walk, whilst vitiated air is drawn out through ducts in the roof. Despite the cleanliness of these conditions, about 250 tons of gravel are removed annually from the sumps in addition to a large amount of dirt from the roofs and grease from the roadway.
Much of the road-surface cleaning is performed by hand but the high roof is dealt with by a machine specially built by Walker Bros. (Wigan), Ltd., and mounted on a PagefieId chassis with a Gardner 51_AV engine. Between 11 p.m. and 6 a.m., when traffic is at its lightest, this machine travels the slow lane at a speed of 5.8 ft. per minute while cleaning is done automatically.
A huge former is mounted on a turntable and this follows the shape of the tunnel roof, its guide wheels running on the black glass and causing a belt to ring should they at any
time fail to maintain contact. A bogie which, by means of automatic sprays and cleaning rollers, keeps the upper surface washed, runs to and fro over the former. A different size former can be fitted in order to treat the dock branch tunnels where the roof section is of different shape.
To deal with the cleansing of pylons at the main entrance, a Thornycroft tower wagon, which can be rtin up to the exceptional height of 49 ft" is employed. It is jacked into position when work is in progress.
A system of continuous maintenance and inspection for the vehicles described is carried out at the committee's garage and workshop by-the committee's staff.