Chromium-plated Rings "the Biggest Advance"
14th March 1952
Page 41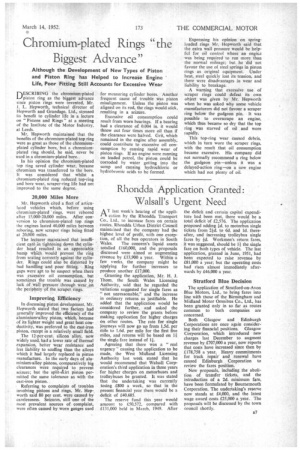 Page 41, 14th March 1952 —
Chromium-plated Rings "the Biggest Advance"
Close
riESCRIBING the chromium-plated lel piston ring as the biggest advance since piston rings were invented, Mr. J. L. Hepworth, technical director of Hepworth and Grandage, Ltd., stressed its benefit to cylinder life in a lecture on "Pistons and Rings" at a meeting of the Institute of the Motor Industry, at Leeds.
Mr. Hepworth maintained that the benefits of the chromium-plated top ring were as great as those of the chromiumplated cylinder bore, but a chromiumplated ring should, he said, never be used in a chromium-plated bore.
In his opinion the chromium-plated top ring saved cylinder wear, because chromium was transferred to the bore. It was considered that whilst a chromium-plated ring reduced top-ring and bore wear, scraper-ring life had not improved to the same degree.
20,000 Miles More
Mr. Hepworth cited a fleet of articulated vehicles which, before using chromium-plated ' rings, were rebored after 15,000-20,000 miles. After conversion to chromium-plated top rings the engines lasted 40,000 miles between reboring, new scraper rings being fitted at 20,000 miles.
The lecturer maintained that insufficient. care in tightening down the cylinder head resulted . in an appreciable bump which would prevent the ring from seating correctly against the cylinder. Rings could also be distorted by had handling and poor fitting. Ring gaps were apt to be suspect when there was excessive oil consumption, but sometimes the trouble was caused by lack of wall •pressare through wear On the periphery of the scraper. rings.
Improving Efficiency In discussing piston development, Mr. Hepworth stated that two factors had generally improved the efficiency of the aluminium-alloy piston, which, because of its lighter weight and great heat conductivity, was preferred to the cast-iron piston, except in a relatively small field.
The 12-per-cent. silicon alloy, now widely used, had a lower rate of thermal expansion, better wear resistance and less liability to scuffing than the alloys which it had largely replaced in piston manufacture. In the early days of aluminium-alloy pistons, comparatively big clearances were required to prevent seizure; but the split-stirt piston permitted the same tolerance as with the cast-iron piston.
Referring to complaints of troubles involving pistons and rings, Mr. Hepworth said 80 per cent. were caused by carelessness. Seizures, still one of the most prevalent sources of complaint, were often caused by worn gauges used for measuring cylinder bores. Another frequent cause of trouble was piston misalignment. Unless the piston was aligned on its rod, the rings would stick, resulting in a seizure.
Excessive oil consumption could result from worn bearings. If a bearing had a clearance of 0.004 in. it would throw out four times more oil than if the clearance were halved. Grit, which remained in the engine after assembly, could contribute to excessive oil consumption by causing rapid wear of piston rings. If an engine were running on leaded petrol, the piston could be corroded by water getting into the sump and causing hydrochloric or hydrobromic acids to be formed.
Expressing his opinion on springloaded rings Mr. Hepworth said that the extra wall pressure would be helpful for oil control where an engine was being required to run more than the normal mileage; but he 'did not favour the use of steel springs in piston rings as original equipment. Under heat, steel quickly lost its tension, and there were disadvantages in wear and liability to breakage.
A warning that excessive use of scraper rings could defeat its own object was given by Mr. Hepworth when he was asked why some vehicle manufacturers did not favour a scraper ring below the gudgeon pin. It was possible to overscrape an engine, which thus became so dry that the top ring was starved of oil and wore apidly.
This top-ring wear caused debris, which in turn wore the scraper rings, with the result that oil consumption became excessive. His company did not normally recommend a ring below the gudgeon pin—unless it was a delayed-action ring—on a new engine which had not plenty of oil.