State Bus Services Transferred T HE Midland area of the Eastern
14th March 1952
Page 36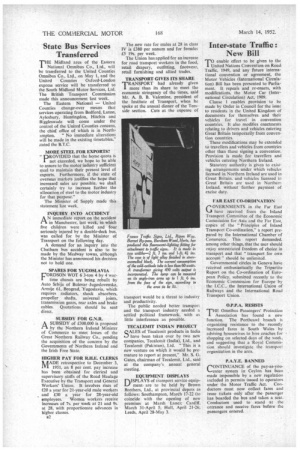 Page 36, 14th March 1952 —
State Bus Services Transferred T HE Midland area of the Eastern
Close
National Omnibus Co., Ltd., will be transferred to the United Counties Omnibus Co., Ltd., on May I, and the United Counties Oxford-London express service will be transferred to the South Midland Motor Services, Ltd. The British Transport Commission made this announcement last week.
The Eastern National — United Counties change-over means that services operating from Bedford, Luton, Aylesbury, Huntingdon, Hitchin and Biggleswade will come under the zontrol of the United Counties concern. the chief office of which is in North
ampton. " No immediate alterations will be made in the existing timetables,itated the B,T.C.
MORE STEEL FOR EXPORTS? " DROVIDED that the home quota is I not exceeded, we hope to be able to assure to the motor industry sufficient steel to maintain their present level of exports. Furthermore, if the state of overseas markets justifies the hope that increased sales are possible, we shall certainly try to increase further the allocation of steel to the motor industry for that purpose."
The Minister of Supply made this statement last week.
INQUIRY INTO ACCIDENT AN immediate report on the accident in Manchester, last week, in which five children were killed and four seriously injured by a double-deck bus, was called for by the Minister of Transport on the following day.
A demand for an inquiry into the Chatham bus accident is also to be made by the Medway towns, although the Minister has announced his decision not to hold one.
SPARES FOR YUGOSLAVIA FORDSON WOT 6 3-ton 4 by 4 wartime chassis are being rebuilt by Auto Srbija of Bulevar -Jugoslovenske, Armije 61, Beograd, Yugoslavia, which requires radiators, shock absorbers, propeller shafts, universal joints, transmission gears, rear axles and brake cables. Qnotations should be sent direct.
SUBSIDY FOR G.N.R. A SUBSIDY of £300,000 is proposed I-1 by the Northern Ireland Minister of Commerce to meet losses of the Great Northern Railway Co., pending the acquisition of the concern by the Governments of Northern Ireland and the Irish Free State, HIGHER PAY FOR R.H.E. CLERKS MADE retrospective to December 3, 1951, an 8 per cent, pay increase has been obtained for clerical and supervisory staffs of the Road Haulage Executive by the Transport and General Workers' Union. It involves rises of £20 a year for 21-year-old male workers and £30 a year for 28-year-old
employees. Women workers receive increases of 7s. per week at 21 and 9s. at 28, with proportionate advances in higher classes. The new rate for males at 28 in class IV is £380 per annum and for females £5 19s. per week.
The Union has applied for an increase for road transport workers in the food, retail drapery, outfitting, footwear, retail furnishing and allied trades.
TRANSPORT GIVES ITS SHARE TRANSPORT had already given more than its share to meet the economic stringency of the times, said Mr, A. B. B. Valentine, president of the Institute of Transport, when he spoke at the annual dinner of the Teesside section. Cuts at the expense of
transport would be a threat to industry and productivity.
The public needed better transport and the transport industry needed a settled political framework, with as little interference as possible.
TECALEMIT INDIAN PROJECT SALES of Tecalemit products in India have been taken over by two new companies, Tecalemit (India), Ltd., and Tecalemit (Pakistan), Ltd. "This is a new venture on which it would be premature to report at present," Mr. S. G. Gates, chairman of Tecalemit, Ltd., said at the company's annual general meeting.
EQUIPMENT DISPLAYS nISPLAYS of transport service equip
ment are to be held by Brown Brothers, Ltd., at provincial depots as follOws: Southampton, Mareh 17-22 (to coincide with the opening of new premises at Marsh Lane); Cardiff, March 31-April 5; Hull, April 21-26; Leeds, April 28-May 3.
Inter-state Traffic : New Bill TO enable effect to be given to the United Nations Convention on Road Traffic, 1949, and any future international convention or agreement, the Motor Vehicles (International Circulation) Bill has been presented to Parliament. It repeals and re-enacts, with modifications, the Motor Car (International Circulation) Act, 1909.
Clause I enables provision to be made by Order in Council for the issue to residents in the United Kingdom of documents for themselves and their vehicles for travel in convention countries. It also modifies enactments relating to drivers and vehicles entering Great Britain temporarily from convention countries.
These modifications may be extended to travellers and vehicles from countries other than those signing a convention. Provision is made for travellers and vehicles entering Northern Ireland.
Statutory authority is given to existing arrangements under which vehicles licensed in Northern Ireland are used in Great Britain, and vehicles licensed in Great Britain are used in Northern Ireland, without further payment of excise duty.
FAR EAST CO-ORDINATION GOVERNMENTS in the Far East have received from the Inland Transport Committee of the Economic Commission for Asia and the Far East, copies of the " Principles of Inland Transport Co-ordination," a report prepared by the International Chamber of Commerce. This report demanded. among other things, that the user should enjoy unrestricted freedom of choice in transport and that "transport for own account" should be unlimited.
Governmental circles in Geneva have received enthusiastically the Tripartite Report on the Co-ordination of European Policy, submitted recently to the Economic Commission for Europe by the I.C.C.. the International Union of Railways and the International Road Transport Union.
0.P.P.A. RESISTS THE Omnibus Passengers' Protection
Association has found a new function. The Porthcawl branch is organizing resistance to the recently increased fares in South Wales by advising housewives to hire coaches for shopping on selected days of the week, and suggesting that a Royal Commission should investigate the transport organization in the area.
P.A.Y.E. BANNED CONTINUANCE of the pay-as-youenter system in Ceylon has been made impossible by a new regulation included in permits issued to operators under the Motor Traffic Act. Conductors must now collect fares and issue tickets only after the passenger has boarded the bus and taken a seat. Conductors used to stand at the entrance and receive fares before the passengers entered.
Tags
Organisations
:
International Chamber of Commerce
,
International Road Transport Union
,
General Workers' Union
,
Inland Transport Committee
,
United Nations
,
Omnibus Passengers' Protection Association
,
Institute of Transport
,
Transport and General Workers' Union
,
British Transport Commission
,
International Union of Railways
,
Economic Commission for Europe
,
Economic Commission for Asia and the Far East
,
Royal Commission