No Surplus Haulage in Swansea
14th March 1952
Page 35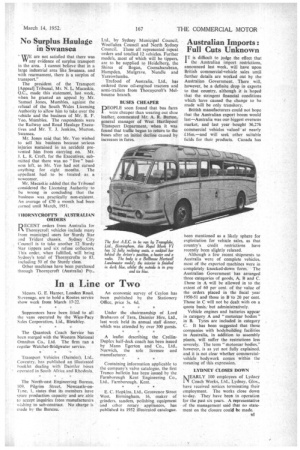 Page 35, 14th March 1952 —
No Surplus Haulage in Swansea
Close
Keywords :
Seaside Resorts In Wales
,
Swansea Bay
,
Associated Equipment Company
,
Thornycroft
,
Swansea
,
Mumbles
,
Lydney
,
Sydney
,
Nundle, New South Wales
,
Bus
,
Business / Finance
WE are not satisfied that there was VII any evidence of surplus transport in the area. I cannot believe that in a large industrial area like Swansea, and with rearmament, there is a surplus of transport."
The president of the Transport fAppeall Tribunal, Mr, N. L. Macaskie, Q.C., made this statement, last week, when he granted an appeal by Mr. Samuel Jones, Mumbles, against the refusal Of the South Wales Licensing Authority to allow him to take over the vehicle and the business of Mr. R. F. Yeo, Mumbles. The respondents were the Railway and Road Haulage Executives and Mr. T. J. Jenkins, Murton, Swansea.
Mr. Jones said that Mr. Yeo wished to sell his business because serious injuries sustained in an accident prevented him from carrying on. Mr. .3. L. R. Croft, for the Executives, submitted that there was no " live " business left, as Mr. Yee) had not earned anything for eight months. The appellant had to be treated as a newcomer.
Mr. Macaskie added that the Tribunal considered the Licensing Authority to he wrong in concluding that the business was practically non-existent. An average of £70 a month had been earned until Match, 1951, THORNYCROFT'S AUSTRALIAN ORDERS
DECENT orders from Australia for N. Thornyeroft vehiclesinclude many from municipal users for Sturdy Star and Trident 'chassis. Sydney City Council is to take another 12 Sturdy Star tippers and six refuse collectors, 'this order, when fulfilled, will bring Sydney's total of Thornycrofts to 83, including 50 of the Sturdy class.
Other machines have been purchased through Thornycroft (Australia) Pty., Ltd., by Sydney Municipal Council, Woollahra Council and North Sydney Council. These all represented repeat orders and totalled 12 vehicles. Further models, most of which will be tippers, are to be supplied to Heidelberg, the Shires of Bogan, Coonabarabran, Hampden, MuIgrave, Nundle and Yarrowlumba.
Trufood of Australia, Ltd" has ordered three oil-engined tractors and semi-trailers from Thornycroft's Melbourne branch.
BUSES CHEAPER
PEOPLE soon found that bus fares were cheaper than wearing out shoe leather, commented Mr. A. R. Burton, genera' manager of West Hartlepool Transport Department, when it was found that traffic began to return to the buses after an initial decline caused by increases in fares.
Australian Imports : Full Cuts Unknown
fT is difficult to judge the effect that
the Australian import restrictions, announced last week, will have upon British commercial-vehicle sales until further details are worked out by the Australian Government. There will, however, be a definite drop in exports to that country, although it is hoped that the stringent financial conditions which have caused the change to be made will be only transitory.
British manufacturers could not hope that the Australian export boom would last—Australia was our biggest overseas market, and last year bought 36,276 commercial vehicles valued at nearly .£16m.—and will seek other suitable fields for their products. Canada has been mentioned as a likely sphere for exploitation for vehicle sales, as that country's credit restrictions have recently been slightly relaxed.
Although a few recent shipments to Australia were of complete vehicles, most of the exported machines were in completely knocked-down form. The Australian Government has arranged three categories of goods, A, B and C. those in A will be allowed in to the extent of 60 per cent, of the value of the orders placed in the fiscal year 1950-51 and those in B to 20 per cent. Those in C will not be dealt with on a quota basis,' but administratively.
Vehicle engines and batteries appear in category A and "motorcar bodies" in B. Tyres are included in category C. It has been suggested that those companies with bodybuilding facilities in Australia, in addition to assembly plants, will suffer the restrictions less severely. The term "Motorcar bodies," however, is as yet not fully explained, and it is not clear whether commercialvehicle bodywork comes within the meaning of this expression, LYDNEY CLOSES DOWN
NEARLY 100 employees of Lydney Coach Works, Ltd., Lydney, Glos., have received notices terminating their employment. The works close down to-day. They have been in operation for the past six years. A representative of the management said that no statement on the closure could be made.