In a Line or Two
14th March 1952
Page 35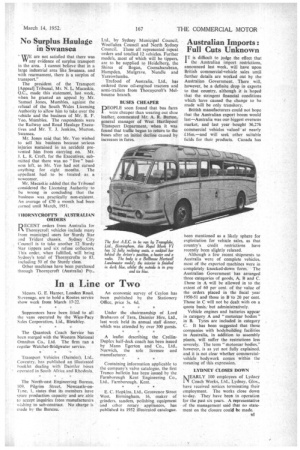 Page 35, 14th March 1952 —
In a Line or Two
Close
Messrs. G. E. Harper, London Road, Stevenage, are to hold a Rootes service show week from March 17-22.
Suppressors have been fitted to all the vans operated by the Wico-Pavy Sales Corporation, Ltd., Bletchley. *
The Quantock Coach Service has been merged with the Western National Omnibus Co., Ltd. The firm ran a regtilar Watchet-Bridgwater service.
Transport Vehicles (Daimler), Ltd., Coventry, has published an illustrated booklet dealing with Daimler buses operated in South Africa and Rhodesia.
The North-east Engineering Bureau, 109, Pilgrim Street, Newcastle-onTyne, 1, states that its members have spare production capacity and are able to accept inqUirics from manufacturers wishing to sub-contract. No charge is made by the Bureau.
An economic survey of Ceylon has been published by the Stationery Office, price 3s. 6d.
Under the chairmanship of Lord Brabazon of Tara, Daimler Hire, Ltd., last week held its annual staff dinner, which Was attended by over 300 guests.
A leaflet describing the CrellinDuplex half-deck coach has been issued by Mann Egerton and Co., Ltd., Norwich, the sole licensee and manufacturer.
Containing information applicable to the company's valve catalogue, the first Tranco bulletin has been issued by the Farnborough Kent Engineering Co., Ltd., Farnborough. Kent.
E. C. Hopkins, Ltd., Grosvenor Street West, Birmingham, 16, maker of grinders, sanders, polishing equipment and other rotary appliances, has published its 1952 illustrated catalogue.