Men in the News
14th March 1952
Page 32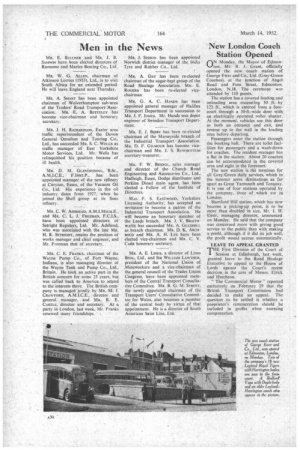 Page 32, 14th March 1952 —
Men in the News
Close
MR. E. BELCHER and MR. J. B. SAMSON have been elected directors of Ransome and Marles Bearing Co., Ltd.
MR. W. G. ALLEN, chairman of Atkinson Lorries (1933), Ltd., is to visit South Africa for an extended period. He will leaVe. England next Thursday.
MR. A. SMART has been appointed chairman of Wolverhampton sub-area of the Traders' Road Transport Association. MR. • E. A. BETTELEY has become vice-chairman and honorary secretary.
MR. J. H. RICHARDSON, Exeter area traffic superintendent of the Devon General Omnibus and Touring Co., Ltd., has succeeded MR. S. C. WELLS as traffic manager of East Yorkshire Motor Services, Ltd. Mr. Wells has relinquished his position because of ill health.
MR. D. M. GLENDINNINCi, B.Sc., A.M.I.C.E., F.1ta5T.P., has been appointed manager of the new refinery at Coryton, Essex, of the Vacuum Oil Co., Ltd. His experience in the oil industry dates from 1927. when he joined the Shell group at its Suez refinery.
MR. C. W. ADSHEAD, A. M.L M . E. , and MR. C. L. J. FREEMAN,
have been appointed directors of Setright Registers, Ltd. Mr. Adshead, who was associated with the late MR. H. R. SF_TRIGHT, retains the position of works manager and chief engineer, and Mr. Freeman that of secretary.
MR. C. E. FRANKS, chairman of the Wayne Pump Co., of Fort Wayne, Indiana, is also managing director of the Wayne Tank and Pump Co., Ltd., Britain. He triok an active part in the British concern for some 25 years, but was called 'back to Americato attend to the interests there. The British company is managed jointly by MR. M. J. CRAWFORD, A.M.I.C.E., director and general manager, and MR. R. E. CASTLE, director and secretary. At a party in London, last week, Mr. Franks renewed many friendships. MR. J. SISSON has been appointed Norwich district manager of the India Tyre and Rubber Co., Ltd.
MR. A. DAY has been re-elected chairman of the sugar-beet group of the Road Haulage Association. MR, E. ROGERS has been re-elected vice chairman. — - MR. G. A. C. HANDS has been appointed general manager of Halifax Transport Department in succession to Ma: J. F. JONES. Mr. Hands was depot engineer of Swindon Transport Department.
MR. E. J. Bun? has been re-elected chairman of the Merseyside branch of the Industrial Transport Association. MR. D. F. GILMOUR has become vicechairman and MR. J. S. RowamTont secretary-treasurer.
MR. F. W. BRIDGE, sales manager and director, of the Church Road Engineering and Accessories Co., Ltd., Hadleigh, Essex, Dodge distributor and Perkins Diesel main agent. has been elected a Fellow of the Institute of Directors.
Mal F. S. EasTwom Yorkshire Licensing Authority, has accepted an invitation to become a patron of the Industrial Transport Association. He will become an honorary member of the Leeds branch. Ma. I. V. BRAITHWAkTE has succeeded MR. A. GLEDHILL as branch chairman. MR. D. K. ARCHBOLD and MR. A. H. LEE have been elected vice-chairmen and MR. C. V. CAR.R honorary secretary.
MR. A. E. LINES, a director of Lines Bros., Ltd., and SIR WILLIAM LAWTHER, president of the National Union of Mineworkers and a vice-chairman of the general council of the Trades Union Congress, have been appointed members of the Central Transport Consultative Committee. MR. R. G. M. STREET, the newly appointed chairman of the Transport Users' Consultative Committee for Wales, also becomes a member of the central body by virtue of that appointment. He is a director of South American Saint Line, Ltd.
Tags
People
:
W. G. ALLEN
,
WILLIAM LAWTHER
,
D. F. GILMOUR
,
H. R. SF
,
A. GLEDHILL
,
E. J. Bun
,
A. H. LEE
,
C. E. FRANKS
,
R. E. CASTLE
,
C. W. ADSHEAD
,
A. SMART
,
D. K. ARCH BOLD
,
E. BELCHER
,
A. DAY
,
A. C. HANDS
,
S. C. WELLS
,
J. H. RICHARDSON
,
J. B. SAMSON
,
J. SISSON
,
J. FREEMAN
,
M. J. CRAWFORD
,
F. W. BRIDGE
,
C. V. CAR