Passing Comments
14th March 1952
Page 28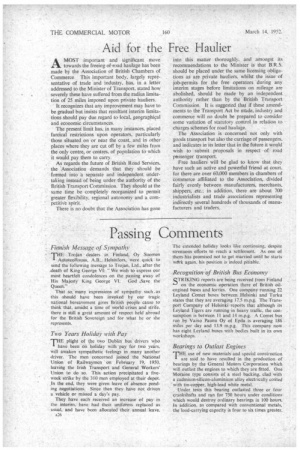 Page 29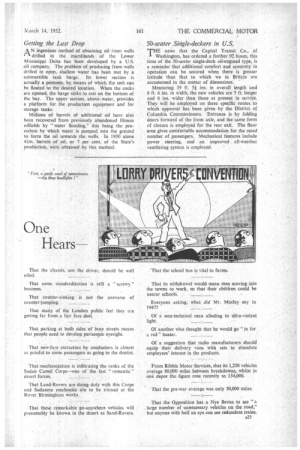 Page 28, 14th March 1952 —
Passing Comments
Close
Keywords :
Finnish Message of Sympathy
THETrojan dealers in . Finland, Oy Suomen
Atitoteollisuus, A.13.,. Helsinfors, were quick send the following message to Trojan, Ltd., after the .death of King George VI: " We wish to express our most heartfelt condolences on the passing away of His Majesty King George VI. God -Save the Queen."
That so. many expressions of sympathy such as this should have been invoked by our tragic national bereavement gives British people cause to think that, amidst a time of world crises and strife, there is still a great amount of respect held abroad for the British Sovereign and for what he or she represents.
Two Years Holiday with Pay
plight of the two Dublin bus drivers who
have been on holiday with pay for two years, will awaken sympathetic feelings in many another. driver. The men concerned joined the National Union of Railwaymen on February 19, 1950, leaving the Irish Transport and General Workers' Union to do so. This action precipitated a fiveweek strike by the 310 men employed at their depot. In the end, they were given leave of absence pending negotiations: Since then they have not driven a vehicle or missed a day's pay.
They have each received an increase of pay in the interim, have had their uniforms replaced as usual, and have been allocated their annual leave. The extended holiday looks like continuing, despite strenuous efforts to reach a settlement. As one of them. has promised not to get married until he starts weirk again, his position.is indeed pitiable.
Recognition. of British Bus Economy
STRiKING reports are being received from Finland on the economic operation there of British oilengined buses and lorries. One company running 22 Leyland Comet buses between Helsinki and Turku states that they are averaging 17.5 m.p.g. The Transport Company of Helsinki reports that although its Leyland Tigers are running in heavy traffic, the consumption is between 11 and 14 m.p.g. A Comet bus run by Vaino Paunu Oy of Epila is averaging 186 miles per day and 13.9 m.p.g. This company now has eight Leyland buses with bodies built in its own
workshops. .
Bearings to Outlast Engines
THE use of new materials and special construction
I are said to have resulted in the production of bearings by the General Motors Corporation which will outlast the engines to which they are fitted. One Moraine type consists of a steel backing, clad. with a cadmium-silicon-aluminium alloy electrically coated with tin-copper, high-lead white metal.
Under tests this bearing outlasted three or four crankshafts and ran for 750 hours under conditions which would destroy ordinary bearings in 100 hours. In addition, as compared with conventional metals, the load-carrying capacity is four to six times greater.
Getting the Last Drop
AN ingenious method of obtaining oil from wells drilled in the marshlands of the Lower Mississippi Delta has been developed by a U.S. oil company. The problem of producing from wells , drilled in open, shallow water has been met by a
• submersible tank barge. Its lower section is actually a pontoon, by means of which the unit can be floated to the desired location. When the cocks are opened, the barge sinks to rest on the bottom of the bay. The upper section, above-mater, provides a platform for the production equipment and for • storage tanks.
Millions of barrels of additional oil have also been recovered from previously abandoned Illinois oilfields by "water flooding," this being the procedure by which water is pumped into the ground to force the oil towards the wells. In 1950 alone 41m. barrels of oil, or 7 per cent, of the State's production, were obtained by this method.
50-seater Single-deckers in U.S.
THE news that the Capital Transit Co., of Washington, has ordered a further,92 buses, this time of the 50-seater single-deck oil-engined type, is a reminder that additional comfort and economy in operation can be secured when there is greater latitude than that to which we in Britain are accustomed in the matter of 'dimensions.
Measuring 39 ft. 51ins, in overall length and 8 ft. 6 ins, in width, the new vehicles are .5 ft. longer and 6 ins, wider than those at present in service. They will be employed on three specific routes to which approval has been given by the District of Columbia Commissioners. Entrance is by folding doors forward of the front axle, and the same form of closure is employed for the rear exit. The floor area gives comfortable accommodation for the rated number of passengers. Mechanical features include power steering, and an improved all-weather ventilating system is employed.