Jungle book
14th January 1977
Page 44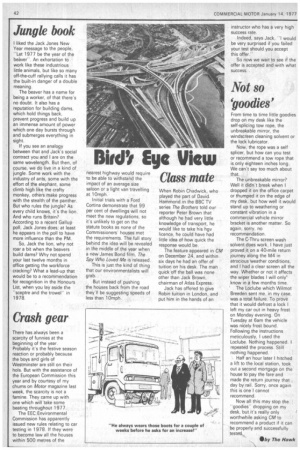 Page 44, 14th January 1977 —
Jungle book
Close
I liked the Jack Jones New Year message to the people. "Let 1977 be the year of the beaver". An exhortation to work like these industrious little animals, but like so many off-the-cuff rallying calls it has the built-in danger of a double meaning.
The beaver has a name for being a worker, of that there's no doubt. It also has a reputation for building dams, which hold things back, prevent progress and build up an immense amount of power which one day bursts through and submerges everything in sight.
If you see an analogy between that and Jack's social contract you and I are on the same wavelength. But then, of course, we do live in a kind of jungle. Some work with the industry of ants, some with the effort of the elephant, some climb high like the crafty monkey, others make progress with the stealth of the panther. But who rules the jungle? As every child knows, it's the lion. And who runs Britain? According to a recent Gallup poll, Jack Jones does: at least he appears in the poll to have more influence than the PM.
So, Jack the lion, why not roar a bit when the beavers build dams? Why not spend your last twelve months in office getting the workforce cracking? What a lead-up that would be to a recommendation for recognition in the Honours List, when you lay aside the "sceptre and the trowel" in 1978.