2.An aid to prod
14th January 1977
Page 42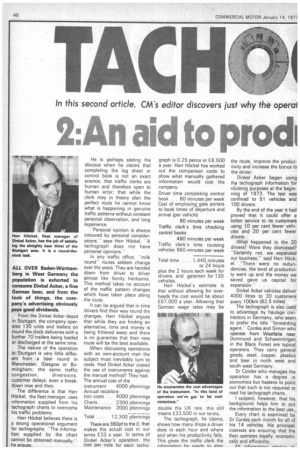 Page 43
Page 42, 14th January 1977 —
2.An aid to prod
Close
He is perhaps stating the obvious when he claims that completing the log sheet or control book is not an exact science; that traffic clerks are human and therefore open to human error: that while the clerk may in theory plan the perfect route he cannot know what is happening in genuine traffic patterns without constant personal observation, and long experience.
"Personal opinion is always coloured by personal consider ations," says Herr Nikkei. "A tachograph does not have personal opinions."
In any traffic office, "milk round" routes seldom change over the years. They are handed down from driver to driver almost like family heirlooms. This method takes no account of the traffic pattern changes which have taken place along the route.
It can be argued that in time drivers find their way round the changes. Herr HOckel argues that while they are finding an alternative, time and money is being frittered away and there is no guarantee that their new route will be the best available.
When discussing operations with an own-account man the subject must inevitably turn to costs. Had Dinkel Acker costed the use of instruments against the manual method? They had. The annual cost of the instrument 4000 pfennings Annual recalibra tion costs. 4000 pfennings Charts 2300 pfennings Maintenance 2000 pfennings Total . . . . 12,300 pfennings
There are 380pf to the C; that makes the actual cost in our terms £32 a year. In terms of Dinkel Acker's operation, the cost per mile for each tacho
graph is 0.25 pence or £6,500 a year. Herr Mickel has worked out the comparison costs to show what manually gathered information would cost the company.
Driver time completing control book . . 60 minutes per week Cost of employing gate porters to book times of departure and arrival (per vehicle) 60 minutes per week Traffic clerk's time checking control books 480 minutes per week Traffic clerk's time routeing vehicles 960 minutes per week Total time . . 1,440 minutes or 24 hours plus the 2 hours each week for drivers and gatemen for 130 vehicles.
Herr Hockel's estimate is that without allowing for over heads the cost would be about £67,000 a year. Allowing that German wage rates may be double the UK rate, this still means £33.500 in our terms.
The tachograph, he claims, shows how many drops a driver does in each hour and where and when his productivity falls. This gives the traffic clerk the infnrrnatinn h,r nppric tn altpr the route, improve the productivity and increase the bonus to the driver.
Dinkel Acker began using thp tachograph information for rOuteing purposes at the beginning of 1973. The test was confined to 51 vehicles and 100 drivers.
By the end of the year it had proved that it could offer a better service to its customers using 10 per cent fewer vehicles and 20 per cent fewer drivers.
What happened to the 20 drivers? Were they dismissed? "Certainly not, we expanded our business," said Herr Hooke!. -There were no redundancies, the level of productivity went up and the money we 'saved gave us capital for expansion.
Dinkel Acker vehicles deliver 4000 litres to 20 customers every 100km (62.5 miles).
The tachograph is also used to advantage by haulage contractors in Germany, who seem to prefer the title "forwarding agent.Cordes and Simon who operate from Westfalia near Dortmund and Schwenningen in the Black Forest are typical operators. They carry general goods, steel, copper, plastics and beer in north west and south west Germany.
Dr Cordes who manages the operation has a degree in economics but hastens to point out that such is not required to read his tachograph charts.
I suspect, however, that his background helps him to put the information to the best use., Every chart is examined by Dr Cordes each month for all of his 14 vehicles. His principal interests are ensuring that the fleet operates legally, economically and efficiently. drivers' hours is recorded on a drivers record sheet. This is used in compiling bonus payments. The drivers are salaried staff at about £7,500 a year.
Information relating to driving techniques is charted and where it becomes apparent that a man would benefit from instruction, this is arranged.
Where the charts indicate that the route requires amending this is put into effect.
On matters of hours and vehicle routeing the charts are analysed by Dr Cordes. The operation takes him exactly two hours per month per driver. "This is less than 25 per cent of my time and it is important."
He points out that his ability to continue as an operator is dependent on him working within the legal hours and speed limits.
On the economics side, his ability to continue in business lies in his skill to get full productivity from his vehicles and show profits. He operates a Mercedes-Benz fleet and enjoys the service of the Mercedes cost analysis scheme.
Each month Mercedes analyses the costs and productivity factors of all Dr Cordes' vehicles. The productivity factor for vehicles in February 1975, for which I have charts, shows that each day they worked 23, 23, and 24 hours for five days.
Full use is more important in German truck haulage than the principle of one driver one vehicle. -The tachograph would soon show which driver was misusing the vehicle,he argued, but went on -if properly trained they do not misuse the vehicles.
Cost analysis shows actual costs under the same standing and running costs as used in Britain. They show comparisons with the previous month, with other vehicles of the same make, with other vehicles of a different make, and with the fleet average.
Because of currency differences and actual cost differences, direct comparisons between Germany and Britain would show nothing of value. However there will be some merit in showing what percentage of the total cost for a 38-tonne-gvw is borne by each cost factor.
Running costs Depreciation 8.4 Fuel 24,6 Lubricants .8 Tyres 9.1 Inspection 3.1 Repairs 6.4 Total running cost total 52.4 Standing costs Time depreciation Interest Rent Tax Insurance 5.1 2.9 0.9 4.2 1.3 Total 14.4 Wages 33 2 uu per cent These costs percentages were for 14,838km (9275m) in the 21 working days. In easy terms this gives an average speed of 18.5 miles per hour, which is well below the scheduled UK average.
In the sensitive area of driving analysis Dr Cordes exhibits his diplomatic skills by passing on this job to an independent analyst.
Kienzle, the tachograph manufacturer, analyses the charts and reports on each driving technique. It has no personal or emotional involvement with the drivers and is consequently completely objective in its report.
There has only been one case of driver dismissal in all the years that the system has operated.
The detailed use of the tachograph information has led to a dramatic reduction in accidents at Cordes and Simon.
Last year there were 14 accidents, or one accident every 192,000km (120,000 miles). The total cost was £2,000, and £1,870 was against one accident.
Dr Cordes says that because he puts the tachograph chart to detailed use he enjoys a greatly reduced accident insurance premium and his goods in transit premium has also benefited.
He estimates that less than 20 per cent of his counterparts make the same use of the instrument as he does.
But as to its cost, because of the almost 100 per cent utilisation, reduced insurance premiums and customer satisfaction leading to renewed contracts, he says he could not calculate the cost per mile. "There would be too many decimal points to make it meaningful," he told me.
Dr Cordes was the operator who opposed the 430km limit before the EEC commission as reported in CM December 3.
His avidence was based on the information contained on his tachograph charts. They showe clearly that on a trunk run ov r urban and suburban roads nd on autobahns while runnin within the speed limits, his ve ides could cover distances of 430km in times betwee 7 hours 9 minutes and 7 hours 29 minutes.
This means 30 unproductive minute each shift or 1 hour 30 mins e ch vehicle each day and for 14 iehicles this aggregates to 21 h urs a day or one vehicle a day. "This is seven per cent of the fle t," says Dr Cordes.
The e is no doubt that using jachog aphs the way Cordes and Si on does is of immense benefit to the operator. It is claime that worthwhile benefits acc ue to the driver.
I wil be looking at that claim next week.