Motorbus, World.
14th January 1909
Page 6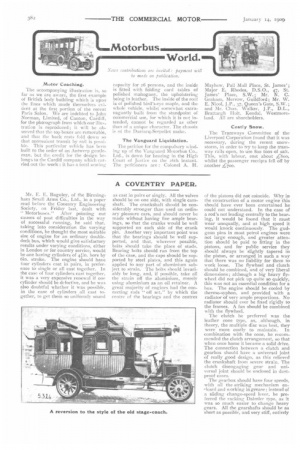 Page 6, 14th January 1909 —
Motorbus, World.
Close
7:.s eontributi(ms are invited : payment will
be made on publication.
.Motor Coaching.
The accompanying illustration is, so far as we are aware, the first example of British body building which is upon the lines which made themselves evident at the first portion of the recent Paris Salon. We are indebted to John Norman, Limited, of Canton, Cardiff, for the photograph from which our illtetration is reproduced; it will be observed that the top boxes are removable, and that the back rests fold down so that convenient transit by rail is possible. This particular vehicle has been built to the order of an Antwerp gentleman, but the credit for the design belongs to the Cardiff companv which carried out the work : it has a total seating capacity for 26 persons, and the inside is fitted with folding card tables of polished mahogany, the upholstering being in leather. The inside of the roof is of polished bird's-eye maple, and the whole vehicle, whilst somewhat extravagantly built from the standpoint of commercial use, for which it is not intended, cannot be regarded as other than of a unique character. The chassis is of the Darracq-Serpollet make.
The Vanguard Liquidation.
The petition for the compulsory winding up of the Vanguard Motorbus Co., Ltd., is down for hearing in the High Court of Justice on the 26th instant. The petitioners are : Colonel A. H. Mayhew, Pall Mall Place, St. James'; Major E. Rhodes, D.S.O., 47, St. James' Place, S.W.; Mr. N. C. Graham, Merrow, Guildford; Mr. W. E. Nicol, J.P., 37, Queen's Gate, S.W.; and Mr. Chas. Walker, J.P., D.L., Brattargh Ifolt, Kendal, Westmoreland. All are shareholders.
Costly Snow.
The Tramway's Committee of the Liverpool Corporation found that it was necessary, during the recent snowstorm, in order to try to keep the tramway rails open, to use Soo tons of salt. This, with labour, cost about £600, whilst the passenger receipts fell off by another £700.