Utility Motors: in France.
14th January 1909
Page 5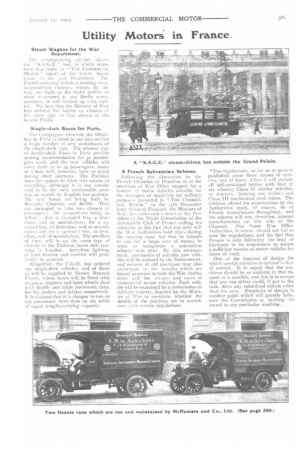 Page 5, 14th January 1909 —
Utility Motors: in France.
Close
Steam Wagons for the War Department.
the accompanying picaire thu " bus, to which refer ence was made " CommetmAt.
Moroi; report of the recent Salon tissue el the 3; st December). The French company which is making these steam-driven vehicles, which, by the way, are built on the Stoltz system so often mentioned by our Berlin cerrespondent, is well backed up \\ill capital, We hear that the Minister of War has ordcred five lorries on chassis f the sonic type as that shown at the Co and Palais.
Single-deck Buses for Paris.
The Compagnie G6n6rale des Omnibus de Paris is about to put into service a large number of new motorbuses of the single-deck type. The present type of double-deck buses in Paris provide seating accommodation for 32 passengers each, and the new vehicles will carry from 21 to 34 passengers, many ot %x horn will, however, have to stand during their journeys. The Parisian does not appear to mind this means of travelling, although it is not considered to be the most comfortable position of transit by English bus patrons. The new buses i.re being built by Renault, Charron, and Brillie. They are arranged to take two classes of passengers. the proportions being as follow :—For a 21-seated bus, 9 firstclass, and 12 second-class; for a 23-waled bus, it first-class, and 12 Ser:011dCia,s ; and for it 3.1-Seflt«I bus, 36 firstclass, and IS second-class. The smallest of the:: will be on the same type of chassis as the Pullman buses now running in London. Acetylene lighting of both interior and exterior will practically be general.
Altogether, the C.G.O. has ordered 15o single-deck vehicles, and of these ç will be supplied by Messrs, Renault Fr;,-res, who buses will be fitted with 20-30h.p. engines and have wheels shod with double and triple pneumatic tires, for the leaders and drivers respectively. It is claimed that it is cheaper to run on ten pneumatic tires than on six solids of equal weight-carrying capacity.
A French Subvention Scheme.
Following the discussion in the French Chamber of Deputies as to the provision of War Office support for a reserve af motor vehicles suitable for the transport of materials for military purposes (recorded in " THE COMMERCIAL Marott " en the 17th December last), General Picquart, the Minister of War, lets addressed a letter to the President of the Trials Commission of the Automobile Club of France calling his attention to the fact that not only will he War Authorities hold trials during the ensuingyear, but that he intends to ask I or a large vote of money in order to inaugurate a subvention scheme next year. By this arrangement, purchasers of suitable new vehicles will be assisted by the Government, and owners of old machines may also participate in the benefits which are bound to accrue to both the War Authorities and the owners and users of commercial motor vehicles. Each vehicle will be examined by a commission of military experts, deputed by the Minister of War to ascertain whether the details of the machine are in accord:ince with certain regulations. 'The regulations, so far as at present published, cover three classes of vehicles, and of these : Class I will include all self-contained lorries with four cr six wheels; Class II similar vehicles, or tractors, drawing one trailer; and Class III mechanical road trains. The vehicles offered for examination by the Authorities must, of course, be of French manufacture throughout, and the scheme will not, therefore, interest manufacturers on this side of the Channel. Our home War Office Authorities, however, should not fail to note the regulations, and the fact that France is only following the lead of Germany in its endeavours to secure a sufficient reserve of motor vehicles for times of need.
One of the features of design for which special attention is invited is that of control. It is urged that the machines should be as uniform in that respect as is possible, and this is to ensure that any one driver could, if put to the task, drive any subsidised vehicle other than his own. Simplicity of design is another point which will greatly influence the Commission in making its award to any particular machine.