The Supply Department.
14th January 1909
Page 21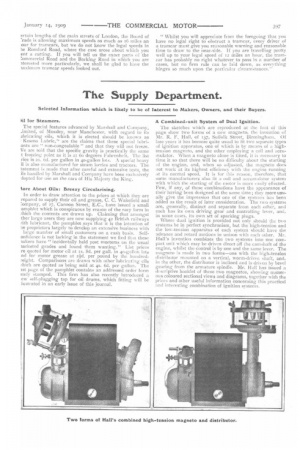 Page 21, 14th January 1909 —
The Supply Department.
Close
Selected Information which is likely to be of Interest to Makers, Owners, and their Buyers.
Oil for Steamers.
The special features advanced by Marshall and Company, "Imited, of Mossley, near Manchester, with regard to its abricating oils, which it is elected should be known as ' Kosmo Lubric," are the claims that these special lubriants are " non-congealable " and that they will not freeze. Ve are told that the specific gravity is practically the same t freezing point as it is at 6o degrees Fahrenheit. The list rice is 25. od, per gallon in 40-gallon lots. A special heavy il is also manufactured for steam lorries and tractors. The tatement is made that after careful and extensive tests, the ik handled by Marshall and Company have been exchlsively dopted for use on the cars of His Majesty the King.
lore About Oils: Breezy Circularising.
In order to draw attention to the prices at which they are repared to supply their oil and grease, C. C. Wakefield and ,ompany, of 27, Cannon Street, E.C., have issued a small amphlet which is conspicuous by reason of the racy form in ihich the contents are drawn up. Claiming that amongst ther large users they are now supplying 42 British railways /ith lubricant, the pamphlet says that it is the intention of lie proprietors largely to develop an extensive business with large number of small customers on a cash basis. Selfonfidence is not lacking in the statement we find that these -takers have "incidentally held post mortems on the usual larketed grades and found them wanting." List prices re quoted for motor oil at is. 8d. per gall. in 40-gallon lots nd for motor grease at 24d. per pound by the hundred'eight. Comparisons are drawn with other lubricating oils /Inch are quoted as being sold at 45. 6d. per gallon. The ast page of the pamphlet contains an addressed order form eady stamped. This firm has also recently introduced a ow self-plugging tap for oil drums, which fitting will be lustrated in an early issue of this journal.
A Combined-unit System of Dual Ignition.
The sketches which are reproduced at the foot of this page show two forms of a new magneto, the invention of Mr. R. F. Hall, of 137, Suffolk Street, Birmingham. Of late years it has become quite usual to fit two separate types of ignition apparatus, one of which is by means of a hightension magneto, and the other employing a coil and accumulator. When a magneto alone is fitted, it is necessary to time it so that there will be no difficulty about the starting of the engine, and, when so adjusted, the magneto does not work at its highest efficiencywith the engine running at its normal speed. It is for this reason, therefore, that some manufacturers also fit a coil and accumulator system with which the starting of the motor is more easily effected. Few, if any, of these combinations have the appearance of their having been designed at the same Lime; they more usually give the impression that one of the systems has been added as the result of later consideration. The two systems are, generally, distinct and separate from each other, and each has its own driving gear and controlling lever, and, in some cases, its own set of sparking plugs.
Where dual ignition is provided not only should the two systems be in perfect synchronism, but the high-tension and the low-tension apparatus of each system should have the advance and retard motions in unison with each other. Mr. Hall's invention combines the two systems into one compact unit which may be driven direct off the camshaft of the engine, whilst the control is by one and the same lever. The magneto is made in two forms—one with the high-tension distributor mounted on a vertical, worm-driven shaft, and, in the other, the distributor is inclined and is driven by bevel gearing from the armature spindle. Mr. Hall has issued a descriptive booklet of these two magnetos, showing numerous coloured sectional views and diagrams, together with the prices and other useful information concerning this practical and interesting combination of ignition systems.