Answers to Queries.
14th January 1909
Page 15
Page 16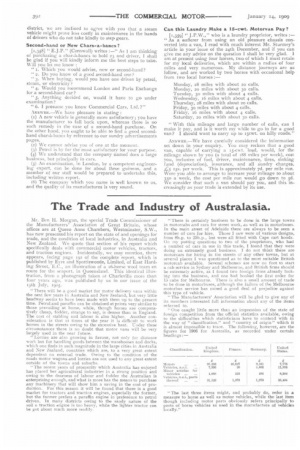 Page 15, 14th January 1909 —
Answers to Queries.
Close
Keywords :
Our readers will he informed by the Editor on ant points connected with the construction or use of coninurcial mcdors. 1I' here a direct reply is desired, a stamped and add lyssed enveloPe should be enclosed : if a request for privacy is not specially made, any query and ans.,.er may be published.
Does Not Want to be "Done."
[1,3531 " FistimoNGEtt " (Kent) enquires :—" Would you kindly Inform me if a Milnes-Daimler omnibus chassis transformed into a lorry for conveying fish and ice a distance of 32 miles would be suitable for this work. I am at present entirely in ignorance of motor matters, and do not want to he " done." I should be glad if you would also furnish me with address of the Milnes-Daimler Company."
ANswER.--The address of Milnes-Daimler, Limited, is 221, Tottenham Court •Road, London, W. It is impossible to give an opinion on one of its chassis, in the absence of an inspection. A competent member of our engineering staff would be prepared to make such an inspection, and give a written report. The work which you suggest corta:nly presents no difficulty.
Motorcabs in Glasgow.
[1,3541 " J.G." (Glasgow) writes :—" Motorcabs have recently been introduced here, and are apparently going to be a great success. I am thinking of acquiring one, and driving it myself, and any information you can give will be most helpful. Give me your own opinion of the cab you think I should go in for, whether two or four cylinders, and whether solid tires on driving wheels. Kindly give me names of makers and prices if you have them. I understand there are also makers who sell on the hire-purchase system : would You recommend this? "
ANSWER.—Everything about motorcabs is explained in our " Special Cab Issue " of the 3oth April last, which is practically out of print. You can have a copy on remittance of is., and you will find that it will answer all your queries. So far as Glasgow is concerned, you could not do better than apply to the Albion Motor Car Company, Ltd., South Street, Scotstoun.
Motorcabs for a Provincial Town.
[1,355. "E.W.M." writes :—" I am contemplating purchasing two taxicabs to run in the ---district, but a few prominent tradespeople to whom I have spoken think the motorcab is still in its infancy for a provincial town, and that I should not be able to get fair returns for the outlay, owing to the up-keep and standing idle during a part of the winter months. The Corporation will grant the licenses to run, as I am a ratepayer, but the present Council will not grant licenses to a company or person who is not a ratepayer, co I am not afraid of keen competition at present.
" Do you think I could do better to make terms with garage in regard to the cabs? Also, would you let me have a list of makers, which you consider most suitable? Finally, which fourcylinder cab do you recommend?"
ANSWER. -----We are quite sure that you, with vow local connection, would find it possible to make a motormb pay handsomely. As a good many of your hirers would :probably go for country runs, we think you might advisedly get a ftair-eylinder cab, and our knowledge of your district leads us to suggest that you should communicate with the Austin Motor Co., Ltd., of Longbridge Works, Northfield, Birmingham. That company's four-cylinder cabs are extremely good. We are more in favour of four cylinders than two, for provincial service. Our " Special Cab Issue " of the 3oth April last will answer the other querks, and our Business Department will send a copy on receipt of is. It is practically out of print, hut we have a small reserve.
Why Should Horses Deliver Motor Spirit?
[1,356] " Ci•Nic •• (Oxford Street, W.) writes I am amused, in more senses than one, to see your excellent topical illustration of a load of motor spirit in difficulties. Does it not, however, rather ' give the game away ' to draw attention to the fact that motor spirit is not sent out by motor vehicles? "
ANSWER—Our duty is to present facts as they are -even at the risk of " giving the game away." There is not, in this case, any such risk, as nobody can pretend that all classes of town or other local delivery can best be effected by motor. Where terminal delays are great, or where a small mileage is enforced by other circumstances, the horse is the cheaper.
Our correspondent will be interested to know that several important motor-spirit companies do use motor vehicles for long-distance and other particular consignments : we would, for example, refer him to the cases which are illustrated in our issues of the 21st September, 1905, 3oth April, 1908, and 3rd Derember, too8. The Petroles do Grosnyi Company has admittedly shown the greatest enterprise in this connection, and its action has greatly helped its business relations.
Bad Gear-changing Causes Preference for Steam.
11,3571 " .A.C.C." writes :--" Reading the notice re your Technical Department,' I thought you could, perhaps, advise me how to ascertain the most reliable vehicle to carry about 2o persons for a public service on a short but hilly route. Although I am a petrol engineer, I must say, for heavy cars, I lean towards steam, as there have been so many failures here through gear troubles. I should only purchase machines when I was tolerably certain I had the best thing that could be got for the purpose."
ANswER.--There are plenty of vehicles of the kind you name, and not a few are offered second-hand. You might very well address the Darracq Serpollet Omnibus Company, of Amelia Street, Walworth, S.F.., the Critchley-Norris Motor Company, of Bamber Bridge, and Leyland Motors, Limited, of Leyland, Lancs., as regards new steam omnibuses, whilst Clarkson, Limited, of Chelmsford, might have something special to offer in the second-hand line as well. A member of our technical staff would be prepared to undertake an inspection, on reasonable terms, should you wish it. Having regard to the very hilly nature of your
district, we are inclined to agree with you that a steam vehicle might prove less costly in maintenance in the hands of drivers who do not take kindly to step gears.
Second-hand or New Chars-a-bancs?
[1,3581" E.J.P." (Cornwall) writes :—" As I am thinking of purchasing a char-h-bancs to hold 23 and driver, I shall be glad if you will kindly inform me the best steps to take. Will you let me know :
" 1. Which you would advise, new or second-hand?
"2. Do you know of a goad second-hand one?
"3. When buying, would you have one driven by petrol, steam, or electricity?
" 4. Would you recommend London and Paris Exchange for a second-hand car?
" 5. Anything decided on, would it have to go under examination?
" 6. 1 presume you know Commercial Cars, Ltd.?" ANswER.--We have pleasure in stating : (1) A new vehicle is generally more satisfactory ; you have the manufacturer to fall back upon, whereas there is no such remedy in the case of a second-hand purchase. On the other hand, you ought to be able to find a good secondhand char-a-bancs by reference to our sundry advertisements pages.
(2) We cannot advise you of one at the moment. (3) Petrol is by far the most satisfactory for your purpose.
(4) We understand that the company named does a large business, but principally in cars.
(5) An examination, in London, by a competent engineering expert, can be done for about three guineas, and a member of our staff would be prepared to undertake this, including written report. (6) The company which you name is well known to us, and the quality of its manufactures is very sound.
Can this Laundry Make a 15-cwt. Motorvan Pay?
11,359] " J.P.IAT.," who is a laundry proprietor, writes :— " As a sufferer from using an old pleasure chassis converted into a van, I read with much interest Mr. Sturrney's article in your issue of the 24th December, and if you can give me any advice on the question I shall be very glad. I am at present using four horses, two of which I must retain for my local deliveries, which are within a radius of four miles and very numerous. My distance journeys are as follow, and are worked by two horses with occasional help from two local horses : Monday, 28 miles with about 20 calls. Monday, 20 miles with about 30 calls. Tuesday, 3o miles with about 4 calls. Wednesday, 16 miles with about 4 calls. Thursday, 28 miles with about 20 calls. Friday, 3o miles with about 4 calls. Friday, 16 miles with about 4 calls. Saturday, 20 miles with about 3o calls.
" With this mileage and large number of calls, can I make it pay, and is it worth my while to go in for a good van? 1 should want to carry up to iscwt. on hilly roads."
ANSWER.—We have carefully considered the information set down in your enquiry. You may reckon that a good van, capable of carrying a 15-cwt. load, would, for the mileage shown by you (a total of r88 miles per week), cost you, inclusive of fuel, driver, maintenance, tires, sinking fund (depreciation), insurance, and all Sundry charges, 155. per week. This is approximately 74:1. per mile run. Were you able to arrange to increase your mileage to about 350 a week, the cost per mile run would go down to sd. We consider that such a van should pay you, and this increasingly as your trade is extended by its use.