ITALIAN RAILWAYS UNDERCUT ROAD HAULJIERS
14th February 1947
Page 28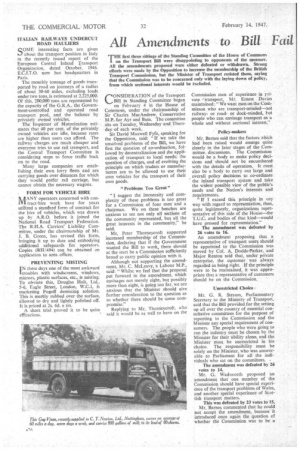 Page 28, 14th February 1947 —
ITALIAN RAILWAYS UNDERCUT ROAD HAULJIERS
Close
SOME interesting facts are given about the transport position in Italy in the recently issued report of the European Central Inland Transport Organization, dated October, 1946. E.C.I.T.O. now has headquarters in Paris.
The monthly tonnage of goods transported by road on journeys of a radius of about 30-60 miles, excluding loads under two tons, is estimated at 2,225,000. Of this, 200,000 tons are represented by the capacity of the G.R.A., the GovernMent-controlled and operated road transport pool, and the balance by privately owned vehicles. The inspector of Motorization estimates that 40 per cent, of the privately owned vehicles are idle, because rates are higher than users can afford. The railway charges are much cheaper and everyone tries to use rail transport, and the Central Transport Committee is considering steps to force traffic back on to the road.
Many large companies are establishing their own lorry fleets and are carrying goods over distances for which they would prefer rail carriage, but cannot obtain the necessary wagons.
FORM FOR VEHICLE HIRE
NAANY operators concerned with con1VI tract-hire work have for years utilized a standard form of contract for the hire of vehicles, which was drawn up by A.R.O. before it joined the National Road Transport Federation. The R.H.A. Carriers' Liability Committee, under the chairmanship of Mr. J. B. Green, has revised this form, bringing it up to date and embodying additional safeguards for operators. Copies (RH/ 494) can be obtained on application to area offices.
PREVENTING MISTING I N these days one of the most awkward troubles with wind.screens, windows, mirrors, plastic surfaces, etc., is misting. To obviate this, Douglas Holt, Ltd_ 5-6, Eagle Street, London, W.C.1, is marketing Fogoff demisting solution. This is inertly rubbed over the surface, allowed to dry and lightly polished off. It is priced at 2s. 6d. a tin.
A short trial proved it to be quite efficacious.