Mile.long Queues at Docks
14th February 1947
Page 26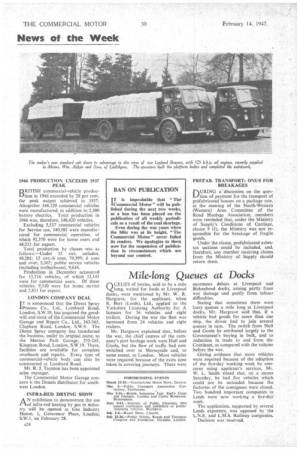 Page 26, 14th February 1947 —
Mile.long Queues at Docks
Close
ClUEUES of lorries, said to be a mile ,long, waited for loads at Liverpool docks, were mentioned by Mr. W. R. Hargrave. for the applicant, when R. Barr (Leeds), Ltd., applied to the Yorkshire Licensing Authority for A licences for 36 vehicles and eight trailers. During the war the fleet was increased from 24 vehicles and eight trailers.
Mr. Hargrave explained that, before• the war, the chief centres of the cornpany's port haulage work were Hull and Goole, but the flow of traffic had now switched over to Merseyside and, to some extent, to London. More vehicles were required because of the extra time taken in covering journeys. There were
enormous delays at Liverpool and Birkenhead docks, arising partly from war damage and partly from labour difficulties.
Stating that sometimes there were lorry queues a mile long at Liverpool docks, Mr. Hargrave said that, if a vehicle had goods for more than one ship, the driver had to join several queues in turn. The switch from Hull and Goole he attributed largely to the Government's buying in bulk, and to reduction in trade to and from the Continent, as compared with the volume before the war.
Giving evidence that more vehicles were required because of the adoption of the five-day working week by concerns using applicant's services, Mr. W. L. Smith stated that, on a recent Saturday, he had five vehicles which could not be unloaded because the factories of the consignees were closed. Two hundred important companies in Leeds were now working a five-day' week.
The application, supported by several Leeds exporters, was opposed by the L.N.E. and L.M.S. Railway companies.
Decision was reserved,