London-Manchester Co-ordination Plan
14th February 1936
Page 48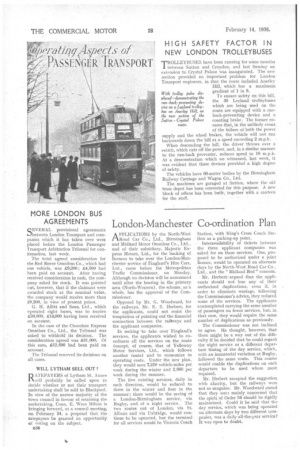 Page 48, 14th February 1936 —
London-Manchester Co-ordination Plan
Close
APPLICATIONS by the North-West Road Car Co., Ltd., Birmingham and Midland Motor Omnibus Co., Ltd., and of their subsidiary, Majestic Express Motors, Ltd., for the backing of licences to take over the London-Manchester service of Fingland's Hire Cars, Ltd., came before the Metropolitan Traffic Commissioner, on Monday. Although no decision will be announced until after the hearing in the primary area (North-Western), the scheme, as a whole, has the approval of the Commissioner.
Opposed by Mr. G. Woodward, for the railways, Mr. E. S. Herbert, for the applicants, could not resist the temptation of pointing out the financial connection between the raikvays and the applicant companies.
In seeking to take over Fingland's services, the applicants wished to coordinate all the services on the route (except, of course, that of Yelloway Motor Services, Ltd., which follows another route) and to economize in operating costs. Under the new plan, they would save 7,210 vehicle-miles per week during the winter and 2,660 per week during the summer.
The five existing services, daily in each direction, would be reduced to three in the winter and four in the summer ; there would be the saving of a London-Birmingham service, via Rugby, and of a night service. The two routes out of London, via St. Albans. and via Uxbridge, would continue to be operated, but the terminal for all services would be Victoria Coach Station, with King's Cross Coach Station as a picking-up point.
Interavailability of tickets between the three applicant companies was asked for on these services. One, proposed to be authorized under a joint licence, would be operated on alternate days by the North-West Road Car Co., Ltd., and the "Midland Red" concern.
Mr. Herbert argued that the applicants should not lose any of their authorized duplications, even if, in order to eliminate wastage, following the Commissioner's advice, they reduced some of the services. The applicants contemplated carrying the same number of passengers on fewer services, but, in that case, they would require the same number of duplications as previously.
The Commissioner was not inclined to agree. He thought, however, that there might be a way out of the difficulty if he decided that he could regard the night service as a different departure timing of the day service, which, with an immaterial variation at Rugby, followed the same route. This course would enable the duplications on each departure to be used where most required.
Mr. Herbert accepted the suggestion with alacrity, but the railways were not so sanguine. Mr. Woodward stated that they wets: mainly concerned that the spirit of Order 54 should be rigidly maintained. Could it be said that the day service, which was being operated on alternate days by two different companies, was a daily all-the-year service? It was open to doubt.