Eastbourne's New Well equipped Fire-fighter Dennis 110 b.h.p. Enclosed Machine
14th February 1936
Page 47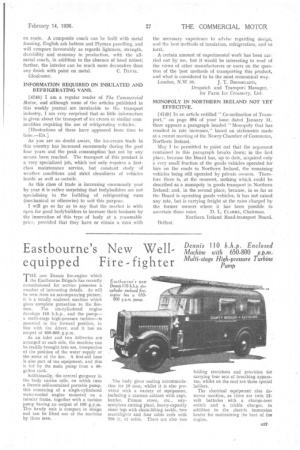 Page 47, 14th February 1936 —
Eastbourne's New Well equipped Fire-fighter Dennis 110 b.h.p. Enclosed Machine
Close
with 650-800 g.p.m. Multi-stage High-pressure Turbine THE new Dennis fire-engine which the Eastbourne Brigade has recently commissioned for service possesses a number of interesting details. As will be seen from an accompanying picture; it is a totally enclosed machine which gives complete protection to the firemen. The six-cylindered engine develops 110 b.h.p., and the pump— a multi-stage high-pressure turbine—is mounted in the forward position, in line with the driver, and it has an output of 650-800 g.p.m.
As an inlet and two deliveries are arranged at each side, the machine can be readily brought into use, irrespective of the potition of the water supply or the scene of the fire. A first-aid hose is also part of Lae equipment, and this is fed by the main pump from a 40gallon tank.
Additionally, the central gangway in the body carries rails, on which runs a Dennis self-contained portable pump, this consisting of a single-cylindered water-cooled engine mounted on a tubular frame, together with a turbine pump having an output of 100 g.p.m. This handy unit is compact in design and can be lifted out of the machine by three men. The body gives seating accommodation for 10 men, whilst it is also provided with a variety of equipment, including a canteen cabinet with cups, kettles, Primus stove, etc., oxyacetylene cutting plant, heavy-capacity sheer legs with chain-lifting tackle, two searchlights and four cable reels with 700 fr. of cable. There are also two folding stretchers and provision for carrying four sets of breathing apparatus, whilst on the roof are three special ladders.
The electrical equipment also deserves mention, as there are twin 12volt batteries with a change-over switch and a trickle charger, in addition to the electric immersion heater for maintaining the heat of the engine.