ASSOCIATION CALENDAR.
14th February 1936
Page 28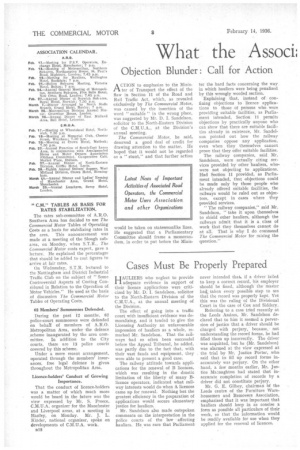 Page 28, 14th February 1936 —
ASSOCIATION CALENDAR.
Close
A.R.D.
Feb. 17.—Meeting for P.S.V. Operators, Ex change Hotel, Manchester; 7 p.m. '
Feb. 18.—Meeting of Metropolitan, Northern Sub-area, Northampton House, St. Paul's Road, flighbnry, London.; 7.45 p.m. Feb. 19.—Meeting for Hauliers, Wellington Hotel, Rochdale; 7 p.m. Feb. 21.—Rotten Sub-area Meeting, Victoria Hotel, Bolton; 7 p.m. Feb. 24.—Annual General Meeting of Metropolitan, Sonthern Sub-area, Eive.Bells Hotel, New Cress Road, tendon; 7.45 p.m. Feb. 27.—Annual Dinner of. Norwich Sub-area, Royal Hotel, Norwich; 7.30 P.m,
March 7.—Dinner Arranged by North Staffs Branch, Grand Hotel. Henley; 7 pan.
March 20.—Metropolitan Division Annual Dinner, Grosvenor House, Londoh. March 28.—Annual Dinner of East Midland Area, Bell Hotel, Leicester.
C.M .U.A.
Feb. 17.—Meeting at Wheataheal Hotel, Northwich, 7.50 p.m.
19.—Meeting at Memorial Club, Chester Street, Wrexham; 7.30'p.m. Feb. 20.—Meeting at Crown Hotel, Matlock; 7.30 p.m. Feb. 22.—Annual Function of South-East Lanes Area, in conjunction with Amalgamated Horse and Motor Owners Association (Oldham Committee), Co-operative Cah3, Market Place, Oldham. Feb. 27,—Annual Dinner of North-Eastern Division, Griffin Hotel. Leeds. Feb. 28.—Eighth Annual Drivers' Supper. West Midland Division. Crown Hotel, Birmingham, March 1.1.—Annual Dinner and Ladies' Evening of Manchester Area, Grand Hotel. Manchester.
March 25.—Annual Luncheon, Savoy Hotel, London.