A c - rioN to emphasize to the Minis.1 - 1 ter of Transport
14th February 1936
Page 28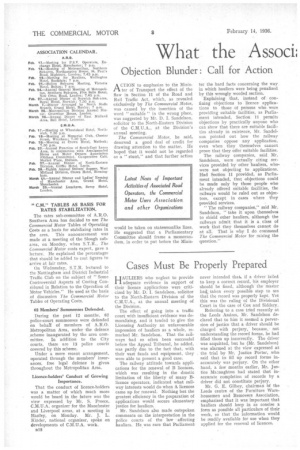 Page 28, 14th February 1936 —
A c - rioN to emphasize to the Minis.1 - 1 ter of Transport
Close
Keywords :
the effect of the flaw in Section 11 of the Road and Rail Traffic Act, which, as revealed exclusively by The Commercial Motor, was caused by the insertion of the word "suitable " in the wrong place, was suggested by Mr. D. I. Sandelson, solicitor to the North-Eastern Division of the C.M.U.A., at the Division's annual meeting.
The Commercial Motor, he said, deserved a good deal of credit for drawing attention to the matter. He hoped that it would not be regarded as a " stunt," and that further action would be taken on statesmanlike lines. He suggested that a Parliamentary Committee should frame a memorandum, in order to put before the Minis ter the hard facts concerning the way in which hauliers were being penalized by this wrongly worded section.
Explaining that, instead of confining objections to licence applications to those of persons who were providing suitable facilities, as Parliament intended, Section 11 permits objections by practically anyone who can show that there are suitable facilities already in existence, Mr. Sandelson pointed out how the railway companies oppose any application. even when they themselves cannot prove that they offer suitable facilities.
The railway companies, said Mr. Sandelson, were actually citing services provided by other hauliers, whowere not objecting to applications. Had Section 11 provided, as Parliament intended, that objections could be made only by those people who already offered suitable facilities, the railways would be ruled out as objectors, except in cases where they provided services.
"The railway companies," said Mr. Sandelson, "take it upon themselves to shield other hauliers, although the railways admit that it is a class of work that they themselves cannot do at all. That is why I do commend The Commercial Motor for raising the question."